Five Things Everyone Will Be Talking About Today
A lot of news out, get caught up here.
by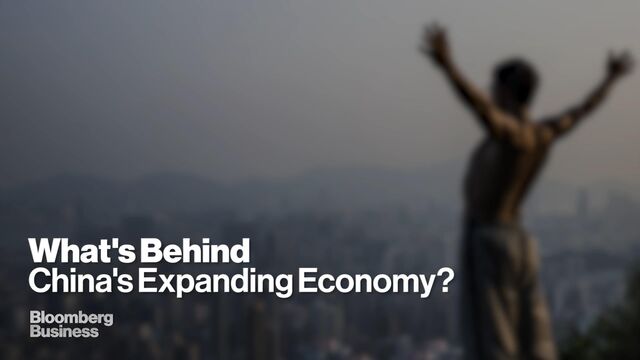 Chinese GDP (barely) beats forecasts, the continued oil price slump squeezes Saudi Arabia and Canada goes to the polls. Here are some of the things people in markets are talking about today.
Chinese GDP
Economists were expecting Chinese GDP to come in at 6.8 percent, so the 6.9 percent growth announced overnight counts as a beat, even if only by the narrowest margin. It was also the slowest quarterly expansion since the first three months of 2009. In further signs of a rebalancing of the Chinese economy away from manufacturing, it was the services sector that outperformed, with growth quickening to 8.4 percent. The Shanghai Composite Index closed 0.1 percent lower, with technology and telecom stocks leading the declines.
Oil squeeze
The slump in oil prices has pushed Saudi Arabia into a budget deficit for the first time since 2009, forcing the country to delay payments to government contractors, according to three people with knowledge of the matter. Separately, Iran's Oil Minister Bijan Namdar Zanganeh has said that "no one is happy" with prices at current levels and that OPEC members should cut production to boost prices to $70 to $80 a barrel. WTI for November delivery, which expires Tuesday, was at $46.67 a barrel on the New York Mercantile Exchange, down 59 cents, at 10:40 a.m. London time.
Canada election
Canadians vote today in a tight federal election, with polls suggesting that Justin Trudeau's Liberal Party is in the lead, bringing to an end Stephen Harper's Conservative Party's decade in power. Odds do not favour an overall majority for any party, so policy uncertainty in the wake of the election may continue. The last ballot stations are due to close at 10:00 p.m. ET with results from eastern Canada expected to start coming in before western voting ends. 
Deutsche Bank reshuffle
Deutsche Bank AG announced a major reshuffle of its senior management on Sunday as co-CEO John Cryan prepares to scale back the trading empire built by his predecessors. Initial market response to the changes has been positive, with shares in the lender trading 3.9 percent higher at 10:50 a.m. London time. 
ECB poll
The European Central Bank's Governing Council meets this week in Malta to set monetary policy for the region. A poll of economists by Bloomberg shows that most see the central bank announcing further easing, with 56 percent of those who do expect extra easing forecasting that will happen by the year end. Only one economist expects that announcement to be made at this week's meeting. The euro was 0.25 percent lower against the dollar at 11:15 a.m London time, reversing earlier gains. 
What we've been reading
This is what's caught our eye over the last weekend.
Want to receive this post, and more, into your inbox every morning? Sign up here
Before it's here, it's on the Bloomberg Terminal.
LEARN MORE