Canadian Oil Sands Says It Has Had No Other Offers Than Suncor's
By and
Suncor's C$4.3 billion deemed inadequate by board Monday

CEO says international, domestic players would have interest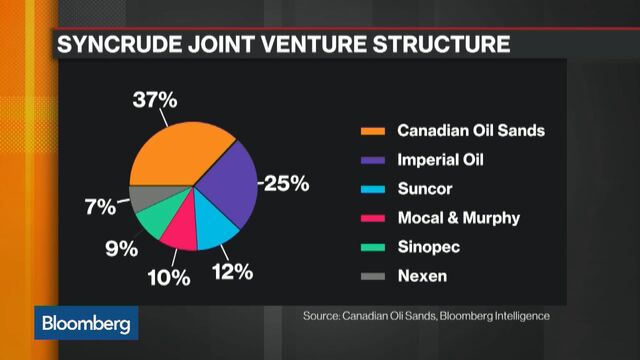 Canadian Oil Sands Ltd. says it hasn't been approached with any other takeover offers after rejecting Suncor Energy Inc.'s C$4.3 billion ($3.3 billion) hostile bid, though it's exploring alternatives.
Chief Executive Officer Ryan Kubik said there are plenty of parties who might be interested in taking over, partnering or merging with his Calgary-based firm. To date though, Suncor's offer is the only one on the table, he said.
"Nobody's approached us so far," Kubik said in an interview at Bloomberg's office in Toronto on Monday. "There are many parties that would like to own it."
Canadian Oil Sands urged shareholders to reject Suncor's takeover attempt, accusing the larger rival of undervaluing its business and exploiting undisclosed information about a partnership in making a low-ball offer. Suncor, Canada's largest crude producer, renewed efforts this month to take over its partner and biggest shareholder in the Syncrude oil-sands joint venture after two friendly offers were rejected earlier this year.
The dramatic decline in oil prices has weighed heavily on the cash flows of Canadian Oil Sands and other North American energy producers. Several international oil companies, Canadian strategic players and pension funds would have an interest in Canadian Oil Sands because it has managed to cut costs and sustain cash flows even with U.S. oil at less than $50 a barrel, Kubic said.
'Fair Value'
"The full range of options is open to Canadian Oil Sands," he said. "The perfect scenario for us is to make sure that our shareholders are getting full and fair value."
Canadian Oil Sands' stock tumbled almost 40 percent this year through the end of September before Suncor offered 0.25 of its shares for each of the target's. The stock, which has surged 55 percent this month, fell 1.7 percent to C$9.77 at the close in Toronto. Suncor declined 1.4 percent to C$36.36.
Kubik said the company is working on several initiatives to cut its costs, including reducing contract work, overtime, and the scope of the activities it is working on. The company needs oil at least at $45 a barrel for its operations to break even, and if it falls below that, Canadian Oil Sands may have to further draw on its C$1.5 billion line of credit, he said.
West Texas Intermediate futures, the U.S. benchmark, fell 2.9 percent to settle at $45.89 a barrel Monday in New York.