Canadian Oil Sands Rejects Suncor's $3.3 Billion Hostile Bid
by and
Board says Suncor bid is exploitative and opportunistic

Offer said to exclude synergies of Syncrude partnership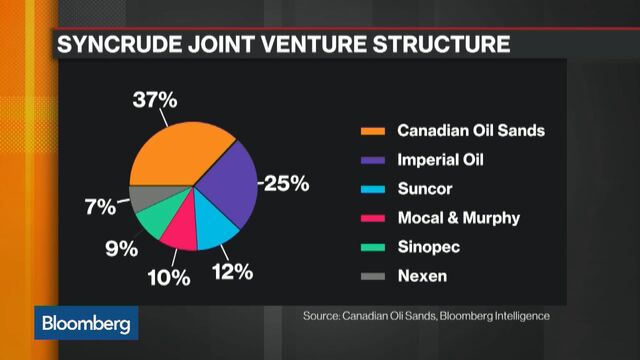 Canadian Oil Sands Ltd. urged shareholders to reject Suncor Energy Inc.'s C$4.3 billion ($3.3 billion) hostile takeover, accusing the larger rival of undervaluing its business and exploiting undisclosed information about a partnership in making a low-ball offer.
Suncor's bid is "wholly inadequate" and has less value than the current market price, Calgary-based Canadian Oil Sands said Monday in a statement.
Suncor, looking to bolster its status as Canada's largest crude producer amid a prolonged slump in oil prices, renewed efforts this month to take over its partner and biggest shareholder in the Syncrude oil-sands joint venture after two friendly offers were rejected earlier this year. Canadian Oil Sands said it remains cash-positive and can still tap most of its C$1.5 billion credit facility and that its shares tend to rise faster than Suncor's when oil prices improve.
"The Suncor bid substantially undervalues your Canadian Oil Sands' shares, offering less than current market prices, less than earlier Suncor proposals, and less than recent Suncor acquisitions," Canadian Oil Sands Chairman Donald Lowry said Monday on a conference call.
'Significant Value'
Suncor said the offer could deliver "significant value" should oil prices stay lower for longer.
"We encourage Canadian Oil Sands shareholders to determine for themselves whether our offer is in their best interests," Suncor Chief Executive Officer Steve Williams said in an e-mailed statement. The bid "represents an opportunity for investment in a financially stronger, more diversified and stable company."
Suncor's offer was designed to take advantage of Canadian Oils Sands shareholders at a time of unprecedented market uncertainty, Lowry said, recommending the company's shareholders send a strong signal by rejecting the bid.
'Fire Sale'
"Suncor has publicly stated its objective of buying assets at fire sale prices, and it has put a bid forward to our shareholders with that objective in mind," Lowry said.
The price underestimates the value of the companies' combined stakes in the Syncrude partnership in Northern Alberta and doesn't reflect a premium to potentially acquire operational control of the venture through the deal, Canadian Oil Sands said. The company also alleged Suncor is aware of several yet-to-be-disclosed cost-reduction and value-enhancing initiatives at Syncrude that aren't reflected in the bid.
Canadian Oil Sands CEO Ryan Kubik said it owns unique assets, including the largest stake in Syncrude, that would be impossible to replicate.
"At current production rates, it would take about 46 years to extract the proved and probable reserves, and we believe there's decades of resources beyond that," he said.
Cost Savings
Syncrude is expected to see roughly a 20 percent cost improvements in 2015, or total cost savings of C$1.3 billion this year, higher than its previous target of as much as C$1.1 billion, Kubik said.
Suncor's offer is "a little light," Doug Warwick, a managing director at TD Asset Management, said on Oct. 5. The firm is Canadian Oil Sands' biggest shareholder with almost 5 percent.
The acquisition would boost Suncor's share in Syncrude to 49 percent, giving it almost twice the stake of the next-biggest holder, Imperial Oil Ltd., which is majority-owned by Exxon Mobil Corp. With the capacity to process bitumen from the oil sands into 350,000 barrels a day of light oil, Syncrude is the largest single-source producer in Canada.
Canadian Oil Sands' stock had tumbled almost 40 percent this year through the end of September before Suncor offered 0.25 of its shares for each of the target's. The stock has surged 55 percent this month. It fell 1.5 percent to C$9.79 at 10:14 a.m. in Toronto. Suncor fell 1.1 percent to C$36.46.
Canadian Oil Sands said the stock has only dipped below the implied offer price 6 percent of the time over the past five years. Earlier this month, it also announced a new shareholder rights plan, which calls for 120 days to consider bids.
Fort Hills
Canadian Oil Sands also pointed to Suncor's recent acquisition of an additional 10 percent stake in the Fort Hills oil-sands project from Total SA in September for C$310 million. The transaction for those assets, which neighbor the Syncrude reserves, was valued at roughly $56,000 a barrel per day.
Two weeks later, the implied value of Suncor's bid for Canadian Oil Sands was $54,000 a barrel even though its reserves have a fully-integrated upgrader, unlike Fort Hills, and are more developed, the company said.
"That's a discount on a discount," said Kubik.
Canadian Oil Sands said its financial adviser, Royal Bank of Canada, provided the board with a written opinion that the Suncor bid is inadequate. It said the company is looking at "strategic alternatives" including a merger or partnership, and would also consider a sale if it reflected "full and fair value."
Suncor has been striving to convince shareholders of the merits of the deal, with meetings from San Francisco to Boston, CEO Williams said in an Oct. 6 interview in New York. Imperial Oil, with its 25 percent stake in Syncrude, is the other "natural bidder," he said that day, adding that Suncor has an advantage over Imperial because of the proximity of its Millennium mine to Syncrude's operations.
Before it's here, it's on the Bloomberg Terminal.
LEARN MORE