Canadians Head to Polls With Trudeau Poised to Oust Harper
By and
Polls show 71% of Canadians want change in government

Incumbent Conservatives trailing Liberals heading into vote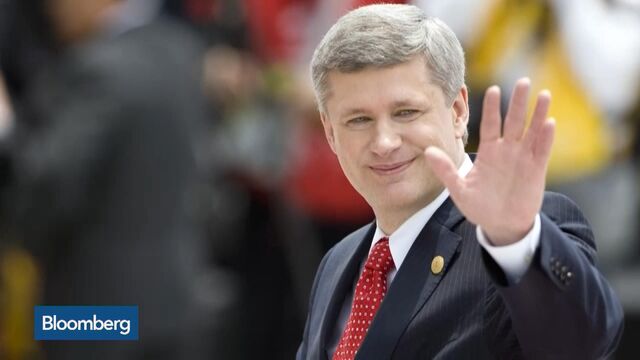 Canadians vote Monday in a tight federal election that polls suggest will bring Justin Trudeau's Liberal Party to power, ending the decade-long run of Prime Minister Stephen Harper's Conservatives.
The Liberals are projected to secure the most seats in Parliament, though short of the 170 required to form a majority government. That would put Trudeau, 43, the son of former prime minister Pierre Trudeau, in the driver's seat to form a government with help from other parties. The Liberals are off to a strong start, poised to sweep the 33 seats in Atlantic Canada, according to preliminary results. Tallies from the country's two most-populous provinces are expected to begin rolling in after 9:30 p.m. New York time.
Trudeau successfully tapped the electorate's desire for change, charging to a late lead in the polls on a platform of deficit-financed infrastructure spending as an antidote to economic woes triggered by an oil-price collapse. Harper, 56, has failed to translate a program of balanced budgets into an expanded support base.
"We have a chance to replace this tired, old government, not just with a different government but with a better government," Trudeau said Sunday in Edmonton on the final day of campaigning. "We have a chance to take Canada from Stephen Harper and give it back to Canadians."
Seat Projections
According to the national poll averages compiled for CBC News, the Liberals have the support of 37.2 percent of voters, versus 30.9 percent for the Conservatives and 21.7 percent for the New Democratic Party. Based on these levels of support, the CBC estimates the Liberals would win 146 seats, the Conservatives would take 118 seats and the NDP, led by Tom Mulcair, 66 seats.
Some polls show the Liberal lead widening in the final hours of campaigning. Nanos Research, in daily tracking, found the party's support reached 39 percent on Sunday, or 38 percent on a three-day average, while Forum Research found 40 percent support for the Liberals and projected a "razor-thin" majority for Trudeau.
The proportion of Canadians who think it's time for a change in government rose to 71 percent on the final weekend of the campaign, from 67 percent, Nanos found.
Fraught Negotiations
If no party wins a majority, the country may be headed for fraught negotiations to form a minority government. While some parties have collaborated, such as the Liberals and the NDP in the 1970s, historically there's never been a formal coalition in Canada and that's unlikely to change.
The instability is adding another layer of worry for investors in a year when Canadian equities and the dollar have struggled amid the commodity price plunge, expectations of the removal of U.S. stimulus and tepid global demand.
Stocks, Dollar
Canada's benchmark stock index is down 5.4 percent this year, the worst-performing market in the Group of Seven. Its currency has depreciated 10 percent against the U.S. dollar this year. It weakened for a second session Monday, down 0.20 percent to C$1.2944 at 9:21 a.m. in Toronto. One loonie buys 77.26 U.S. cents.
Analysts and traders say the vote's outcome shouldn't have any major economic upheavals or policy shifts as long as the NDP isn't in power. Indeed, the 3.5 percent rebound in the Canadian currency this month coincided with the NDP falling to third in the polls, from first. Any sell-off in the currency following the vote may be short lived as the Liberal plan to stimulate the economy would be positive, said David Rosenberg, chief economist and strategist at Gluskin Sheff & Associates Inc. in Toronto.

Central Focus
Trudeau's agenda of infrastructure spending and tax hikes on high earners is resonating in a country struggling with depressed commodity prices and emerging from a first-half contraction. The economy became a central focus in the early part of the 79-day campaign, which began two weeks after the Bank of Canada cut interest rates for the second time this year and as data increasingly confirmed the extent of damage from falling oil prices.
The election has also become a plebiscite on Harper, who won accolades for guiding the economy relatively unscathed through the global financial crisis, only to take blame for the prolonged economic stagnation that has followed. 
Flagging in the polls, Harper sought to shift the debate mid-campaign toward identity and national security issues in a bid to galvanize voters around issues such as whether Muslim women should be allowed to wear face coverings at citizenship ceremonies.
Toward the end of the campaign, he began speaking more about protecting the economy from potential damage from a Trudeau or Mulcair government.
'Reckless Spending'
"Our position on fundamental economic issues is entirely different than all of the other parties," Harper said in a Bloomberg interview Sunday during a campaign stop near Toronto. "All of the other parties are combinations of tax hikes, deficits, reckless spending, and that's not what we're proposing."
Harper, never widely popular, struggled to grow his support beyond his base. According to polling by Nanos Research Group, only about 38 percent of Canadians would even consider voting for the Conservatives, down from 50 percent in July. The incumbent who until recently polled better than his party became a liability as Trudeau and Mulcair sought throughout the campaign to characterize him as a secretive autocrat who would do anything to stay in power.
In a final-weekend push, Harper headed to the country's most populous and vote rich pocket, the Toronto region, and held a rally with former Toronto mayor Rob Ford, who admitted while in office to smoking crack cocaine, and his brother Doug Ford, a former mayoral candidate.
A Harper victory can't be discounted, especially if the NDP is able to regain support lost to the Liberals during the campaign. Popular support doesn't always translate into more seats, and the addition of 30 new districts in this campaign makes seat forecasting more difficult. Projections done for the Globe and Mail by University of Calgary political scientist Paul Fairie put the odds of a Conservative minority government at 22 percent, compared with 79 percent for the Liberals.
The NDP has helped keep minority Liberal governments in power in the past in exchange for the implementation of favored policies. The Liberals and the NDP may find common ground again, given they both have said their primary objective in this campaign is to get Harper out of office.
The last ballot stations to be closed will be in British Columbia at 10 p.m. Eastern time. Preliminary results from eastern Canada -- where the Liberals are poised to dominate -- will start trickling in from 7 p.m., with results from Ontario and Quebec -- the country's two most-populous provinces -- due after 9:30 p.m.