Brazilian Real Rallies as Rousseff Insists Levy Is Staying
by
Currency tumbled Friday on speculation minister would resign

Lawyers plan to file new impeachment request, newspaper says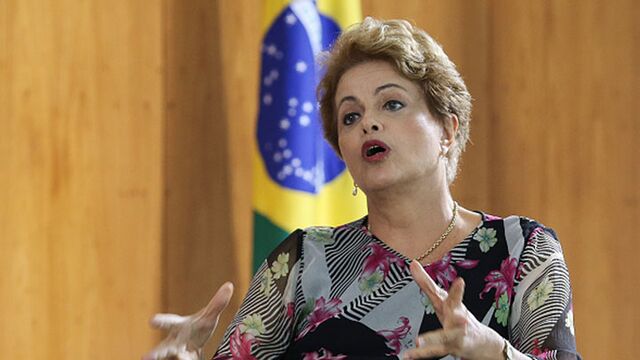 Brazil's real advanced the most among major currencies after President Dilma Rousseff reassured investors that Finance Minister Joaquim Levy will stay in his post and that they share policy goals.
Rousseff made the comments in response to an interview that Rui Falcao, president of her Workers' Party, gave to Folha de S. Paulo. He told the newspaper that Brazil needs to increase consumer and business financing and that the minister should leave if he doesn't agree.
The real rose 1 percent to 3.8863 per dollar, the most among 31 major currencies tracked by Bloomberg. The real tumbled Friday on speculation Levy would resign amid a political crisis that has undermined an already-weak economy. Local media reports that Levy has been facing criticism within the government -- and that former President Luiz Inacio Lula da Silva has been calling for his resignation -- have increased in recent weeks as lawmakers resist proposals for spending cuts and tax increases that he says are needed to shore up the budget.
"It would be terrible if Brazil was left without a market-friendly finance minister at a time when there is no growth and there are large risks of another sovereign downgrade amid all this political mess," said Jefferson Rugik, a currency trader at Correparti Corretora de Cambio in Curitiba.
Fitch Ratings lowered the nation's debt rating to one level above junk last week, the same level Moody's Investors Service placed Brazil in after a downgrade in August. Standard & Poor's cut the country to junk last month, citing a rising debt burden and difficulty in reviving the economy.
A stalemate in Brazil over impeachment proceedings has left Rousseff's plans to shore up fiscal accounts adrift. After failing to get a quorum, Congress delayed until next month a vote on presidential vetoes of major spending increases. In the meantime, fiscal revenue has come in short of forecasts, meaning the government may miss its target for its budget surplus before interest payments this year, which has already been trimmed to 0.15 percent of gross domestic product.
Lawyers Helio Bicudo and Miguel Reale Junior, one of the founders and a former member of the Workers' Party, plan to file a new request Tuesday with Congress to impeach Rousseff, the newspaper Folha de S.Paulo reported Sunday, without saying how it got the information.
Reale Junior and Bicudo had already signed an impeachment request in September that was turned down by the Lower House head, Eduardo Cunha. While alleged illegal actions during Rousseff's presidential campaign were cited in the first request, the new request cites alleged wrongdoings this year, during her second term, according to Folha.
"Brazil at the moment is striving for further political stability," Rousseff said at a press conference with Swedish Prime Minister Stefan Loefven in Stockholm on Monday.
"We don't have any bubbles and also no bigger structural processes that could lead us into a deep crisis," Rousseff said. "We don't have currency problems as such. It's a situation we've ended up with, it's a local crisis, but we're dealing with it."
Swap rates on the contract maturing in January 2017, a gauge of expectations on Brazil's interest-rate moves, rose 0.04 percentage point to 15.42 percent.
Before it's here, it's on the Bloomberg Terminal.
LEARN MORE