Bernstein: The VW Scandal Might Not Hurt Sales As Much As Feared
"A surprisingly limited impact on brand."
By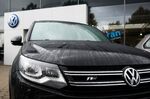 Investors are worried about the impact of an emissions scandal in which Volkswagen admitted to cheating on U.S. air pollution tests for years. According to a new note out of Bernstein, their fears may be overblown.