U.K. Throws Lavish Welcome for Xi in Hopes of 'Golden Era' in China Trade
by
Cameron seeks to redress lopsided trade relationship

U.K. strives to be China's `best partner in the West'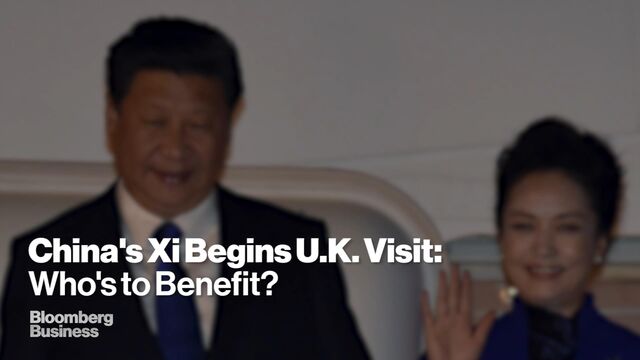 The U.K. is rolling out the red carpet for Chinese President Xi Jinping's state visit starting Monday. Amid the pomp of 41-gun salutes, lunch with Queen Elizabeth II and lodging at Buckingham Palace, Prime Minister David Cameron will be looking to Xi to open up the purse strings and dole out billions of pounds of new investment. 
China opening the investment spigot would help redress a lopsided trade relationship that's left the U.K. lagging its continental peers in winning Chinese largess. Chinese officials have said the amount of deals Xi will announce during the trip will be "huge."
The U.K. is back in China's good graces after Cameron's May 2012 meeting with the Dalai Lama plunged the two countries into a near two-year diplomatic freeze. Chancellor of the Exchequer George Osborne reflected the U.K.'s more accommodative tone on a September trip to China when he signaled Britain would refrain from criticism on human rights and not engage in "megaphone diplomacy." The U.K., the first major Western country to get behind China's Asian Infrastructure Investment Bank, was striving to be China's "best partner in the West" and usher in a "golden era" between the countries, he said.
Cameron will raise human rights and cyber security "frankly and with mutual respect" during private talks with Xi, his spokeswoman, Helen Bower, told reporters in London on Monday. She emphasized he could do so because the U.K. has formed "a strong relationship with China based on constructive engagement."
Here is a quick look at how Britain lags, and what Cameron wants to do about it.


While the U.K. is now China's second biggest European Union trading partner after Germany, it has the biggest trade imbalance of the five largest EU economies. That trade deficit reflects its relatively weak exports of goods and services compared with imports from China. The U.K. is counting on Xi making progress in his drive to transform China's economy from an export-driven model to a consumption-driven one to create new markets for British firms. 
China's Silk Road -- an ambitious plan to revive historic trade routes through a string of infrastructure projects linking China with Europe via land and sea -- is another opportunity for British companies. To show how seriously the U.K. takes getting a piece of the "One-Belt, One-Road" action, Osborne became the first British minister to visit the northwestern province of Xinjiang, despite protests from human rights organizations which report widespread repression of Uighurs, a Muslim minority. Many of the overland routes will pass through Xinjiang.

Cameron is keen for Chinese companies to invest in Britain, and China has signaled it's willing to do so. In an interview with China's state-run CCTV he described the diplomatic relationship between the two countries as being in "a very special moment" and added it created an opportunity for "Chinese investment into United Kingdom, that is absolutely both beneficial for Britain and China." Zhang Ji, assistant minister of commerce, said this month China and the U.K. will sign investment deals that will be larger than during any previous visit by a Chinese leader. Industries that will benefit include finance, real estate, energy, autos and technology, he said. During his trip Xi will visit Huawei Technologies Co., China's largest maker of telecommunications equipment including smartphones. Huawei, which was banned in the U.S. over security concerns, supplies network equipment in the U.K.
In a warm-up for Xi's visit, Osborne announced during his trip that the British government will provide a guarantee of 2 billion pounds ($3.1 billion) for the construction of the U.K.'s first new nuclear power plant in three decades to be built in Somerset. China General Nuclear Power Corp. and China National Nuclear Corp. are poised to take stakes in the project being led by Electricite de France SA. The deal could also lead to China designing and building a second nuclear plant in Essex as part of the Cameron government's effort for China to play a leading role in developing nuclear energy in the U.K.
China's quest to internationalize its currency also stands to get a boost: Osborne in September also called for linking the U.K. and Shanghai stock markets and the issuance of yuan-denominated bonds in the U.K.
Before it's here, it's on the Bloomberg Terminal.
LEARN MORE