Swiss Finance Minister's Seat in Doubt on SVP Election Gains
by
Anti-immigrant SVP got biggest vote share in parliament ballot

Multi-party government to be decided by parliament on Dec. 9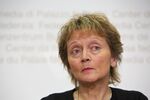 The tenure of Finance Minister Eveline Widmer-Schlumpf is hanging in the balance after the anti-immigrant Swiss People's Party, from which she acrimoniously split nearly a decade ago, increased its share of the vote in Switzerland's parliamentary election.
The SVP, which has spearheaded referendums to ban construction of mosque minarets and reduce immigration, won a record number of lower house seats in Sunday's ballot and is claiming the second post in government it lost in 2008 when Widmer-Schlumpf left the party.
As a minister, the 59-year-old played a key role in the bailout of bank UBS Group AG and in the U.S. dispute over offshore bank accounts. She also made international headlines in 2010 for her decision not to extradite Oscar-winning film-maker Roman Polanski. Yet her Bourgeois Democratic Party, or BDP, saw its share of the vote slip to 4.1 percent from 5.4 percent in 2011, giving ammunition to critics who contend it is too small to deserve to be in government.
"The pressure now is huge on Widmer-Schlumpf, it'll be a nail biter," said Michael Hermann, a political scientist who heads Zurich-based research institute Sotomo, adding that there were a lot of moving parts.
'Tactical Games'
The multi-party government, which operates on the basis of consensus with dissenters not voicing their views in public, will be voted upon by parliament in secret balloting on Dec. 9. Membership in the body is determined on the basis of proportionality, as well as strategic deals among parties.
"The tactical games must now stop," SVP President Toni Brunner told television SRF. "I urgently demand that the three biggest parties each have two representatives, with the fourth biggest getting one."
The SVP said it would decide on a candidate on Nov. 20. Names touted for a ministerial role include lawmakers Hansjoerg Knecht, Thomas de Courten, Guy Parmelin, Heinz Brand and Hannes Germann, according to NZZ am Sonntag. Heinz Taennler and Albert Roesti may also be in the running, AWP reported on Monday. SVP Defense Minister Ueli Maurer has said he wants to remain in the executive body.
Still, the SVP's bid could get thwarted by the Christian Democrats, or CVP, also looking to obtain a second seat, or by a coalition among parties to keep Widmer-Schlumpf in power and stymie the SVP's advance. That happened in 2011, when the BDP won fewer votes than the Green Party and Widmer-Schlumpf managed to stay on in government.
No Reason
Alternatively, the SVP could try to take one of two seas of the pro-business Free Democrats, currently held by Foreign Minister Didier Burkhalter and Economy Minister Johann Schneider-Ammann. The Social Democrats could back this scenario because it would appease the SVP in its complaint of being underrepresented while the government as a whole wouldn't have a more conservative bent.
"I see absolutely no reason to vote a minister out of office who has done very well, who has moved Switzerland forward, who has worked well with others," SP President Christian Levrat, told SRF television.
According to a survey conducted for SRF after polling stations closed on Sunday, 38 percent -- a plurality --- favor the status quo with Widmer-Schlumpf retaining her seat. Twenty-six percent want the BDP's seat going to the SVP, with the remainder of respondents backing still other constellations.
Widmer-Schlumpf had already made a decision about her future in government before Sunday's elections, newspaper Schweiz am Sonntag reported, citing people close to the finance minister. It didn't specify what decision she made.
"The big question will be whether Widmer-Schlumpf stands for reelection -- if she does she stands a good chance of being chosen again, though it's certainly gotten tight," said Georg Lutz, professor of political science at the University of Lausanne. "Also, the legitimacy problem has gotten bigger, since her party lost."
'Very Difficult'
Who gets what ministry will be determined after the Dec. 9 parliamentary vote. In the past members of the government have switched ministries. Widmer-Schlumpf initially was justice minister, while CVP's Doris Leuthard was economy minister before overseeing infrastructure and transportation.
Still, because Switzerland's government is consensus based, a new finance minister wouldn't necessarily translate into a new course of action. Additionally, the Swiss system of popular initiatives, which allows voters to have a direct say on topics from taxation to immigration to executive pay, means that the government stance regularly is determined by plebiscites.
In the next four years there may be referendums on domestic banking secrecy, tax privileges for billionaires, basic income and on expelling foreigners who have committed a crime. Additionally, the new government needs to find a way of implementing a 2014 plebiscite -- spearheaded by the SVP -- to limit immigration from the European Union without nullifying a treaty package with the bloc that covers a host of topics ranging from air traffic to agriculture.
"I think it will be very, very difficult for Eveline Widmer-Schlumpf to be reelected," said said Thomas Schaeubli, a political risk analyst at Wellershoff & Partners Ltd. in Zurich. "But this governmental vote is such a black box, it's hard to say."
Before it's here, it's on the Bloomberg Terminal.
LEARN MORE