Pressure on Pollsters as Scots Nationalists Wait for Clear Lead
by and
Sturgeon says `sustained' lead needed before new referendum

SNP won't risk losing second independence vote, lawmaker says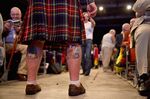 Opinion pollsters, still smarting from their failure to predict the result of May's general election, have been saddled with a responsibility that will put them back at the center of British politics. They will determine if there should be another referendum on Scotland leaving the United Kingdom.
Scottish First Minister Nicola Sturgeon said during her Scottish National Party's annual conference last week she'll wait for "strong evidence" of a change in the national mood before putting independence to another vote after last year's decision by 55 percent to 45 percent to stay in the U.K. And that evidence will come from polls.
"Opinion polls in Scotland were actually quite accurate in the election, and in the referendum proved to be broadly right," Sturgeon told the BBC on Friday. It will take "a shift in opinion over a sustained period of time" before she pushes for a rerun of last year's ballot, she added. "It's not in our interests to rush to a second referendum."
Opinion polls became a national joke -- and the focus of anger from some political activists -- after the May election, when a contest that was "too close to call" ended with Prime Minister David Cameron's Conservatives taking 37 percent of the vote and an unexpected parliamentary majority and the main opposition Labour Party trailing with 30 percent -- its worst result since 1987. Polling companies have commissioned an inquiry into their failure to spot the seven-point gap.
'Different Challenges'
Pollsters say the "yes" or "no" choice in a one-question referendum may appear to make it easier to predict the outcome than in elections involving many different parties, but it's more difficult to "weight" the results as people's voting behavior doesn't necessarily follow party affiliations and it's harder to predict how many will turn out.
"Referendums have different challenges as we don't have history to help us in terms of expected turnout -- which was a key issue in the general election in May -- or the level of support we're starting from," said Tom Mludzinski, director of political polling at ComRes in London. "It is a binary choice, however, and not spread out over lots of parties, which should help."
A survey for Ipsos Mori carried out in late August found 53 percent of Scots saying they would vote in favor of independence and 44 percent against if another referendum is held. But a YouGov Plc poll published Thursday found 52 percent against independence and 48 percent in favor. That survey was conducted Oct. 9-13.
'Key Cleavages'
"I would say it's more difficult to predict the outcome because there is no track record and historical data to use in modeling the result," said Joe Twyman, head of political and social research at YouGov. "Identifying the key cleavages in the electorate and the sample becomes more difficult."
For the SNP, the key is whether it can get the right result. While Sturgeon talks about the need to respect the views of the Scottish people after their vote last year, the party knows there is a limit to the number of times it can put independence to the vote.
Speaking at an event on the sidelines of the conference in Aberdeen on Friday, Angus Robertson, who leads the SNP in the U.K. House of Commons and ran the party's campaign last year, was succinct. "When we have another referendum, if that's what the people wish to happen, we need to be absolutely sure that we're going to win it," he said.
Before it's here, it's on the Bloomberg Terminal.
LEARN MORE