Malaysia's Najib Faces Opposition Push for No Confidence Vote
by , , and
Motion has uphill battle to be heard as parliament resumes

Najib to deliver budget on Friday seeking to bolster growth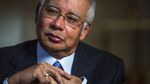 Malaysian Prime Minister Najib Razak faces new pressure over a multi million-dollar funding scandal with the opposition seeking a no confidence vote as parliament resumed after a four-month hiatus.
Parliamentary opposition leader Wan Azizah Wan Ismail said Monday she will submit a new motion for the vote, while an earlier one by a lawmaker from her party will be retracted. The three parties in her opposition coalition agreed she would put it forward, and they plan to approach former alliance member Parti Islam se-Malaysia, or PAS, to get its support as well, she said.
"We want to save our country," Wan Azizah told reporters in Parliament. The public is "actually demanding this," she said.
While the motion against Najib faces obstacles even getting heard, let alone voted on, the opposition is looking to gain momentum from criticisms made by former premier Mahathir Mohamad, who has called on the prime minister to step aside. It was listed as among the last items of 28 for Monday when parliament reconvened, and the session ended with only three orders of the day being heard.
Retains Support
Najib retains the support of many divisional heads in his ruling party and in the budget this week, he is expected to increase handouts to the poor, many of them rural Malays, a core support base. Even so there are signs of discontent from within, including from Muhyiddin Yassin, whom Najib fired as deputy premier in a cabinet reshuffle in July.
People's Justice Party lawmaker Hee Loy Sian said he filed the no-confidence motion over Najib's failure to address claims he received funds linked to debt-ridden state investment company 1Malaysia Development Bhd. in his bank accounts. Najib has denied any wrongdoing, and he and investigators have both said the funds were political donations from the Middle East.
"Najib has tarnished the country's image in the world and caused investors to lose faith in the government," Hee wrote in the motion that was posted on the parliament website on Saturday. "Malaysians do not believe in this prime minister."
Ringgit Weakness
Southeast Asia's third-largest economy has faced more than three months of upheaval over the imbroglio. Foreign investors pulled $4.6 billion from stocks and bonds last quarter and sent the currency to a 17-year low. While the ringgit has pared losses alongside emerging market currencies, it's still down about 17 percent this year, the worst performer in Asia.
Najib declined to speak to reporters in Parliament today.
Hee's motion was listed as the fourth-last item of 28 for Monday, making it "clearly designed to fail," said Wong Chen, a lawmaker from the People's Justice Party. Priority is usually given to government matters in parliamentary motions.
The opposition needs the support of 25 MPs from the ruling Barisan Nasional coalition in order to pass a no-confidence vote. However, the opposition alliance has itself been wracked by infighting for months over issues including PAS's push for Islamic criminal law in a state it governs. A new alliance was formed in September after some PAS leaders cut ties with the mostly ethnic-Chinese Democratic Action Party.
Coalition Rebellion?
The no-confidence vote will be for "BN MPs to rebel if they would want any move against Najib to result in a new BN/UMNO majority government," said Wong, referring to Najib's United Malays National Organisation. "They will want the cake and eat it too, which then makes the mathematics of getting a rebellion much tougher."
The motion could come up when lawmakers debate Najib's budget presentation and the ratification of the Trans-Pacific Partnership trade agreement, said Wan Saiful Wan Jan, head of the Institute for Democracy and Economic Affairs.
"The BN MPs will support the budget, but the vote of no confidence could come in against Najib's promotion of the TPP agreement as some of the government MPs are worried local business will be sidelined" by the Pacific trade pact, said Wan Saiful.
Najib is seeking to please both investors and Malaysians when he presents the budget on Oct. 23, with plans to help the low-income and measures to bolster an economy still reliant on oil revenue. The TPP will need to be ratified within the next two years and will be debated in parliament by mid-January, state news agency Bernama reported.
Parliament Committee
The prime minister has been under pressure for his handling of the economy and the performance of troubled state investment company 1MDB, which was the subject of multiple probes over alleged financial irregularities. In July, Najib appointed four members of parliament's Public Accounts Committee, one of the groups investigating 1MDB, to his cabinet. That led to a pause in investigations by the group until a new chairman was appointed Monday.
Hasan Arifin, a parliamentarian from a district bordering Najib's was voted in as head of the committee. He won a by-election in May after it was triggered by the death of former minister and envoy Jamaluddin Jarjis in April.
Before it's here, it's on the Bloomberg Terminal.
LEARN MORE