Harper Warns of Liberal Economic Decline on Eve of Canada Vote
by
Incumbent Conservative attacks Trudeau in Bloomberg interview

PM trails by 5 points in national polls after 11-week campaign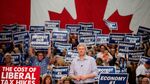 Prime Minister Stephen Harper, in one of his final interviews before Canada's election, warned that Liberal Leader Justin Trudeau would lead the nation to long-term economic decline, and expressed confidence Canadians will choose his platform of balanced budgets and tax cuts.
Lagging in the polls ahead of Monday's vote, Harper has spent the last week of the campaign highlighting what he says are the risks of returning the Liberals to power: higher taxes, deficits and increased government spending. In an interview Sunday at a campaign stop in Mississauga, Ontario, just outside Toronto, Harper stressed many of those same themes.
"Our position on fundamental economic issues is entirely different than all of the other parties," the incumbent Conservative said. "All of the other parties are combinations of tax hikes, deficits, reckless spending, and that's not what we're proposing."
It's a message Harper, who is seeking a fourth consecutive election win, is hoping will prompt Canadians to worry more about economic-management issues the Conservatives believe they have an advantage with, and less about fatigue with a government that's ruled for nearly a decade. According to national polling averages compiled for CBC News, the Liberals have the support of 36.3 percent of voters, versus 31.2 percent for the Conservatives and 22.3 percent for Tom Mulcair's New Democratic Party.  
"The Liberal plan is actually to raise taxes, to run ongoing permanent deficits and to frankly cut some existing benefits that people have," Harper said. The choice is "a low tax plan for growth versus a high tax plan that really would send us on a path of long-term economic downturn and stagnation."
Pension-Plan Critique
Harper took aim at the possibility of higher payroll taxes under Trudeau, whose party has pledged to bolster Canada's pension plan and has praised proposals in Ontario to raise mandatory pension rates. The Liberals have also pledged to cut the employment insurance rate, though Harper would cut it more.
Asked for comment on Harper's warning, the Liberal Party -- which has declined repeated requests for an interview with Trudeau -- sent an e-mailed statement from Toronto candidate Carolyn Bennett. "Stephen Harper wants us to believe better is not possible, and is desperate to change the channel from his ten failed years," she said.
The Liberals, who are campaigning on a middle-class tax cut financed by an increase in levies on high-income earners, have pledged to "work with the provinces and territories, workers, employers, and retiree organizations to enhance the Canada Pension Plan," which raised the prospect of boosted mandatory pension contributions.
Harper cited a report from the Canadian Manufacturers and Exporters that concluded higher payroll taxes would lead to less employment. "I think the business community really understands the importance of that and the damage that would be done to our economy by a reckless payroll tax hike of the magnitude the Liberals are proposing," he said.
Front-Running Rival
Trudeau entered the campaign, which began Aug. 2, in third place and his numbers began to increase after he broke from Harper and Mulcair to favor deficit spending to fund infrastructure, aimed at stoking Canada's sluggish economy. While Canada largely escaped the global financial crisis and emerged from the recession in better shape than other countries, its economy has been suffering from a prolonged period of low growth. As the country struggled with plunging oil prices and two quarters of contraction to start the year, Trudeau's call for faster growth coupled with tax hikes on the rich began to resonate. The Liberals have held a clear lead in the polls for the past week.
Asked whether Trudeau's call for more deficit-financed infrastructure can help accelerate growth, Harper said it would end up having the opposite effect. "It's not a referendum between what we have today and some imaginary future of rainbows and unicorns," the prime minister said. "We think that's demonstrably worse for economic growth than the plan we have for Canada's economy."
Harper has been campaigning largely on a stay-the-course message, with balanced budgets and keeping federal taxes as a share of GDP to the lowest in more than half a century. He's also campaigning on the Trans-Pacific Partnership trade pact his government signed on to this month.
Economic Legacy
The prime minister, who declined to answer a question about what type of agenda he would put forward if the Conservatives are held to a minority in Monday's vote, cited his trade agreements among his top economic accomplishments since taking power. Another major accomplishment, he said, was to keep the nation out of structural deficits after the country was forced into stimulus spending to recover from the recession.
"I think looking back had other people been there we would not have come out of the recession quickly, would not have come out with a balanced budget, would not have the good fundamentals we have," Harper said. "We would be on the same deficit debt zero growth track that you see most European countries on."
It's a record, and a plan, he's hoping Canadians will reward him for, even after almost a decade in power.
"I think the Canadian people have shown repeatedly that they are solid, sensible population that by comparative standards are economically literate, that understand the benefits of trade, the risk of protectionism, that understand the benefits of solid financial management, and the risks of using crises to do runaway spending and deficits and taxes," he said. "We'll let the voters decide and I'm simply here to advocate for the right path for the Canadian economy."
Before it's here, it's on the Bloomberg Terminal.
LEARN MORE