Five Issues Jangling Investor Nerves Before Poland's Elections
by and
Foreign holdings of local Polish bonds surge to $55 billion

Poll-leading party seeks more state spending, tax on banks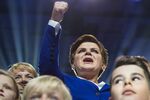 The party that steered Poland through the euro crisis without a recession is set to lose power at elections on Sunday. The likely victor has some investors worried.
Poll-leading Law & Justice, poised to end the ruling Civic Platform's eight years in charge, will inherit a $548 billion economy whose growth has been the envy of a euro region. It will also be greeted by a flock of new faces: since its last stint in office finished in 2007, foreign investors have poured $35 billion into the government's zloty bonds and own more than half of Poland's public debt.

Law & Justice's campaign pledges to raise taxes on banks and retailers, fire up social spending and trim the retirement age have failed to reassure investors that the economy will remain in safe hands. Here are the main questions they're asking.
1: How would Law & Justice affect investment climate?
A more fraught relationship with business would probably ensue.
The party accuses multinational companies of tax avoidance and treating their Polish subsidiaries as assembly lines for western consumers. Banks would be hit with a special tax on assets or transactions, while big -- mostly foreign -- supermarket chains would pay a sales levy to level the playing field with local stores. Meanwhile, smaller companies would gain a preferential 15 percent corporate tax rate and cheap loans.
Those credits would be facilitated by the central bank, with Law & Justice poised to select six of the monetary authority's 10 rate-setters early next year. The loan program mirrors a similar system in Hungary, where Prime Minister Viktor Orban's self-styled "unorthodox" economic policies have been a model for Law & Justice.
Law & Justice's last term in office ushered in Poland's fastest economic growth in a decade. Gross domestic product expanded 6.2 percent in 2006 and 7.2 percent in 2007 as sales-tax cuts spurred consumption.
2. What are the risks for banks?
First of all, it wants to boost Polish ownership in the banking industry, 60 percent of which is currently under foreign control. The process should be gradual, and will probably be carried out by homegrown institutions with deep pockets, such as state-owned PKO Bank Polski SA and insurer PZU SA.
Second, it proposes imposing either a 0.39 percent asset levy for lenders and insurers, to generate 5 billion zloty ($1.4 billion) a year, or a tax on trading of bonds, stocks, currencies and derivatives, to bring in 1.7 billion zloty. Banking profits were 16.2 billion zloty last year. Law & Justice's candidate for prime minister, Beata Szydlo, said similar taxes introduced elsewhere in Europe didn't "bring down" banks.
The party promises to convert $37 billion of Swiss-franc mortgages into zloty to help borrowers whose monthly payments have risen along with Switzerland's currency. Law & Justice says banks should shoulder most of the conversion costs and has already failed in a bid to make lenders stump up 90 percent of the expense. A party economics spokesman has said the measure may cost banks 15 billion zloty.
3. Could the budget cope with Law & Justice's pledges?
The current government leaves the budget below 3 percent of GDP, having narrowed the fiscal gap from 7.8 percent in 2010 and brining Poland out of the EU's excessive-deficit procedure this year.

Law & Justice's list of promises includes raising the tax-free allowance, boosting child benefits and lowering the pension age, and could add up to 39 billion zloty of additional budget spending a year. While some of that will be financed by extraordinary levies and revenue-stimulating social programs, the party envisages the lion's share coming from tightening tax loopholes. That could take years.
"It seems appropriate to worry about fiscal profligacy," said Pasquale Diana, a London-based economist at Morgan Stanley. "The first test of how aggressive they plan to be on the issue will come straight after the election" if the party decides to amend an already "mildly expansionary" 2016 budget, he said.
Such risk is making Polish bonds underperform East European peers. Poland's local-currency government securities returned 1.4 percent since May 22, the last trading day before Law & Justice candidate Andrzej Duda's surprise victory in presidential elections. That compares with a 1.7 percent gain on Czech notes and 2.5 percent on Hungary's, according to Bloomberg indexes.
Poland has fiscal rules in place to prevent the government from spending with abandon, automatically adjusting expenditure if public debt levels are too high. The constitution also imposes austerity measures if government borrowing tops 60 percent of GDP. To overturn this, Law & Justice would need backing from two thirds of parliament.
4. Could coal subsidies trigger higher electricity costs?
While a heatwave this summer sparked Poland's worst power crisis in almost three decades, Law & Justice has said it won't open the electricity market to cheaper supplies from Germany as it seeks to shield its loss-making coal industry.
As it piles cash into mines, its grid remains one of the most isolated in the EU, risking bigger bills for companies including steelmaker Arcelor Mittal, copper producer KGHM Polska Miedz SA and oil refiner PKN Orlen SA. Wholesale electricity prices have been 25 percent higher than in Germany this year.

5. How would a Law & Justice victory affect ties with the EU?
Law & Justice has challenged Germany's approach to the refugee crisis and criticized what is sees as attempts to "blackmail" Poland into agreeing to migrant quotas. It also wants laxer environmental rules to protect Poland's coal industry and may create tension over its tax plans.
That's a change of tack from the Civic Platform, which cultivated a close relationship with the EU -- the nation stood side by side with German leader Angela Merkel on issues such as the conflict in Ukraine and the Greek debt crisis. Ex-Prime Minister Donald Tusk is now the bloc's president.
Business-wise, Germany is Poland's No. 1 partner with $115 billion of bilateral trade last year. Poland is also the biggest recipient of EU structural funds, securing 106 billion euros ($121 billion) in financing from the bloc's latest budget.
Before it's here, it's on the Bloomberg Terminal.
LEARN MORE