Cryan Puts His Stamp on Deutsche Bank
by
Investment bankers Ritchie, Urwin picked to lead new units

Matherat to ovesee regulation, Hammonds to be operating chief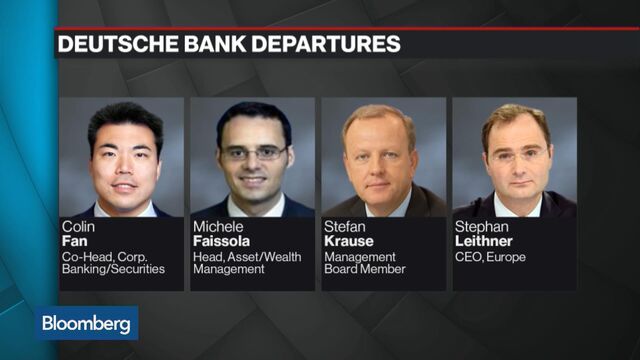 Deutsche Bank AG co-Chief Executive Officer John Cryan is assembling his team as he prepares to scale back the trading empire his predecessor built.
Jeff Urwin, 59, who joined the bank from JPMorgan Chase & Co. this year, will oversee a newly formed corporate and investment bank, while Garth Ritchie, 47, the head of equities, will run a unit encompassing stock and bond trading, the bank said Sunday. Both men will join the management board at the beginning of next year.
Cryan, 54, is under pressure to lower costs, boost capital buffers and reverse a share slump that has made Deutsche Bank the worst-valued stock among global lenders. After a record $2.5 billion fine for manipulating interest-rate benchmarks this year, the biggest management overhaul in a decade may help Cryan restore investor confidence and rebuild relations with regulators.
"Deutsche Bank's execution on topics like cost management has been poor historically, and it might be that the new co-CEO is looking for a new team to deliver on changes and targets, to create value for shareholders," Kian Abouhossein, an analyst at JPMorgan in London with an overweight rating on the stock, wrote in a report Monday. "We welcome this change."
Shares Rise
Deutsche Bank rose 3.7 percent to 26.93 euros in Frankfurt trading, bringing this year's gain to 7.8 percent. The stock still trades at about 63 percent of tangible book value -- the price investors should expect to receive if the company liquidated its assets. That's trailing Barclays Plc and Credit Suisse Group AG.
"We want to create a better controlled, lower cost, and more focused bank that delivers long-term value to shareholders," Cryan said in a statement. He's scheduled to present his strategy to reduce expenses and boost profitability on Oct. 29.
Ritchie was named co-head of the equities business in late 2008. The company's revenue from trading stocks and related securities rose 7.1 percent to 2.9 billion euros ($3.3 billion) last year from its level in 2009. Revenue from trading fixed income and currencies slumped 30 percent to 6.84 billion euros over that period as stricter regulation cut returns and as demand from clients dropped.
Management Changes
Urwin's unit will comprise corporate finance as well as transaction banking. He had moved to JPMorgan when it acquired Bear Stearns Cos. in 2008, which he had joined in 1996. He was also the former head of global emerging markets at Lehman Brothers Holdings Inc.
Among other changes, Quintin Price, 54, the former head of Alpha Strategies at BlackRock Inc., will oversee asset management and join the management board. Fabrizio Campelli, the head of strategy at Deutsche Bank, will be in charge of wealth management after the business is moved to a unit which caters to consumers and smaller companies.
Sylvie Matherat, head of government and regulatory affairs who joined last year from the French central bank, will oversee regulation as a board member while Karl von Rohr, the chief operating officer for regional management, will also join top management with responsibility for personnel and legal.
Chief Information Officer Kim Hammonds will succeed Henry Ritchotte as chief operating officer when he steps down at year-end to take on a new role at the bank. She is expected to join the board later. Matherat and Hammonds, who joined from Boeing Co. in 2013, would be the first women on Deutsche Bank's management board since Ellen Ruth Schneider-Lenne's death in 1996.
'Fundamental Reorganization'
"Deutsche Bank rarely underwent such a fundamental reorganization in its history," Chairman Paul Achleitner said in the statement. "This also requires tough decisions."
Senior departures include Colin Fan, 42, the co-head of the investment banking and trading unit, who resigned effective Monday, and Michele Faissola, 47, the head of asset and wealth management, who will leave after a transition period. Both were top deputies of Cryan's predecessor, Anshu Jain.
Stefan Krause, 52, a longtime executive who currently oversees transaction banking, will depart at the end of the month, while Stephan Leithner, the head of compliance and CEO for Europe excluding Germany and the U.K., is leaving to join private equity firm EQT.
"John is trying to create a bank in his image and the people who are leaving are people who were building it in Anshu's image," said  Christopher Wheeler, a banking analyst at Atlantic Equities LLP in London. "It's a seminal moment in rebuilding the Deutsche Bank franchise."
Bafin Focus
Several of the bankers who are leaving were criticized by German regulator Bafin in May for the bank's handling of interest-rate rigging. Bafin said management failed to prevent and adequately address attempted rigging. Deutsche Bank has said reviews found no current or former members of the management board were involved in or aware of the misconduct.
"Tighter management control should minimize the probability of another scandal," said David Kass, a professor at the University of Maryland's Robert H. Smith School of Business. "They are being forced by regulatory pressure, shareholder pressure and they want to restore their reputation. And they have certainly taken a big hit."
Some investors predict Cryan will expand a plan Jain presented in April to cut assets at the investment bank by as much as 150 billion euros, or 17 percent, by the end of 2018. Abouhossein said last month that Cryan should get rid of another 50 billion euros of assets at the unit.

Deutsche Bank said earlier this month that it expects to book a 5.8 billion-euro writedown as stricter capital requirements reduce the value of its investment bank, resulting in the largest quarterly loss in at least a decade. The company said it may also scrap its dividend for the year.
Cryan is considering cutting 8,000 jobs, in addition to those that will be eliminated through the sale of one of its consumer bank units, a person with knowledge of the matter said last month. Deutsche Bank announced plans in April to divest Bonn-based Deutsche Postbank AG, which employs about 15,000, through a trade sale or by selling shares to the public.
Cost cuts and asset reduction will feature prominently in Cryan's plan to lift earnings and capital levels without selling shares, said Massimo Baggiani, who helps manage about 1 billion euros, including Deutsche Bank stock, at Symphonia SGR.
"Cryan is more credible now," said Baggiani. "A capital increase would really add downside risk to the company. The capital increase cannot be ruled out, but it's becoming less and less probable."
Before it's here, it's on the Bloomberg Terminal.
LEARN MORE