Philippines Braces for Flooding as Typhoon Koppu Intensifies
by and
5,000 passengers stranded in seaports, 16 flights canceled

Aurora, nearby areas may be hit by up to 3-meter storm surges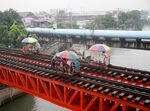 The Philippines urged millions of its citizens along the path of Super Typhoon Koppu to prepare for flooding, water surges and landslides as the storm intensified hours before its expected Sunday landfall on the northern part of the main island of Luzon.
Koppu packed maximum winds of nearly 150 miles (241 kilometers) per hour, making it the equivalent of a Category 4 storm on the five-step Saffir Simpson scale, according to the 5 p.m. bulletin of the U.S. Navy and Air Force's Joint Typhoon Warning Center. The storm's top winds are forecast to reach 161 mph, or Category 5 strength, as it makes landfall between 5 p.m. and 10 p.m. New York time.
"Koppu is now a super typhoon with 150 mph winds and continues to rapidly
intensify," said Jeff Masters, co-founder of Weather Underground in Ann Arbor,
Michigan.
The Philippines' weather bureau placed Aurora province, located in the eastern part of the Central Luzon region, under Signal No. 4, the second-highest on a five-level alert scale, before the forecast for landfall Sunday morning local time. . The typhoon-prone area may experience storm surges as high as 3 meters (10 feet). Other provinces north of the capital, including Isabela and Quirino, are under signal No. 3 alerts while Metro Manila's storm warning was raised to No. 2.
President Benigno Aquino said the government is ready to provide assistance to 1.5 million families in northern and eastern Luzon that may be affected by Koppu, urging Filipinos to prepare and not to panic. Food packs are on standby, communities and evacuation centers are stocked with essential supplies, and heavy equipment is in place to clear roads and debris and help restore power after the storm, Aquino said in a televised speech Friday evening.
Masters said Koppu, called Lando on the Philippines, has dumped about 20 inches (50 centimeters) of rain in the past day and has the potential to bring 2 feet to 4 feet more as it moves across Luzon.
"Koppu will slow down further after landfall and spend at least three days over
Luzon island," Masters said.
One computer model suggests the storm could linger over the Philippines for five days, which would make flooding worse. Densely-populated Manila, home to over 1.6 million people, should be at the edge of where Koppu could drop about 12 inches of rain, Masters said.
"So hopefully the monetary damage from the flooding will stay below a billion dollars," Masters said.
The Philippines is battered annually by an average of 20 cyclones that form over the Pacific Ocean, and is the second most at-risk nation globally from storms after Japan, according to Maplecroft, a U.K.-based researcher. Typhoon Haiyan, a Category 5 storm, killed more than 6,000 people in November 2013 and caused economic damage exceeding $13 billion. It had maximum winds surpassing 300 kilometers per hour.
Hundreds Evacuated
The government is aiming for "zero casualties," Aquino said. Hundreds were evacuated in Baler town in Aurora, according to civil defense units. Almost 5,000 passengers were stranded in several seaports in Luzon, the Coast Guard said. Sixteen domestic flights were canceled by Philippine Airlines Inc. and Cebu Air Inc. Saturday, the Manila airport authority said on Twitter, while some colleges in metro Manila and nearby provinces canceled classes.
The combination of a slow-moving and powerful typhoon means a disastrous situation for communities on its path, meteorologist Eric Leister said on AccuWeather.com. "While damaging winds are a concern, the greatest threat will be life-threatening flooding from days of torrential rainfall," he said.
Residents in areas prone to floods and landslides have been urged to move to safer ground while those in coastal zones on the path of the storm must be evacuated, Alexander Pama, executive director of the Philippines' National Disaster Risk Reduction and Management Council, said in a briefing Saturday. Tourists planning to hit the beaches or surf in Baler have been advised to postpone their trips, he said.
Koppu's movement is restricted by Typhoon Champi behind it and other high-pressure areas that are slowing its movement. As a result, it could dump heavy rains for six to 12 hours, Aquino said, citing the weather bureau in Manila. Heavy to intense rain will fall within the 600-kilometer coverage of Koppu, according to the bureau. Aquino said rainy weather will probably persist through the coming week.
Champi is on a track toward Iwo To, where the World War II battle of Iwo Jima took place. After that it is forecast to veer into the open Pacific, according to the Joint Typhoon Warning Center.
One silver lining from the storm may be relief from dryness associated with the El Nino weather pattern. "When this typhoon passes, it will bring, or it may bring, much-needed relief," Aquino said. "Because of the rainfall, the water levels in our dams will rise, thus helping to alleviate the effects of the El Nino."
Before it's here, it's on the Bloomberg Terminal.
LEARN MORE