German Politician Stabbed With Refugee Crisis Seen as Motive
by
Cologne attacker cited hatred of foreigners, police say

Merkel's refugee policy facing resistance in Germany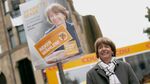 A mayoral candidate in Cologne who advocates tolerance for refugees was stabbed and seriously injured by a man who cited xenophobic motives, just as Chancellor Angela Merkel insists that Germany needs to be open to people arriving on its soil.
Henriette Reker, an independent, was attacked by a knife-wielding man at a campaign event Saturday and taken to the hospital for emergency surgery, Bild newspaper reported. Four other people were wounded and a 44-year-old suspect was taken into custody, Cologne police said on their website. Reker was stabbed in the neck, the Rheinische Post newspaper said.
"Our thoughts are with Henriette Reker and the others who were injured in the knife attack," Steffen Seibert, Merkel's chief spokesman, said on Twitter. Justice Minister Heiko Maas called it "an assault on all democrats" in an e-mailed statement.
The suspect, an out-of-work contractor, told investigators he targeted Reker, 58, because of her post as the city's social affairs commissioner, which deals with refugees, broadcaster WDR cited Cologne police chief Wolfgang Albers as saying at a news conference. He said Reker was in stable condition, according to WDR.
The suspect, whose name was withheld by police, is a German national and cited anti-foreigner motives for attacking Reker and appears to have acted alone, Albers said.
Merkel is facing resistance in her Christian Democratic party amid complaints from states and communities straining under the influx of at least 800,000 refugees expected in Germany this year. While some political allies are urging her to close the border, Merkel says Germany has a moral and legal obligation to welcome those fleeing war and poverty, though those who don't qualify for asylum will have to leave again.
"We will do our part but we can't do this alone," Merkel said at a party event on Friday. "The challenge is not to seal ourselves off when we are living in a globalized world."
Cologne, the nation's fourth-largest city by population, is holding a mayoral election Sunday. It will go ahead as planned despite the attack on Reker, according to her campaign website.
"In connection with refugees, I'd rather talk about the potential and the opportunities than about forcible measures and burdens," she says in a recent posting on the website.
Before it's here, it's on the Bloomberg Terminal.
LEARN MORE