Ted Cruz Says Trump Campaign Is 'Immensely Beneficial' to His Run
By
Texas conservative running fourth among Republicans in Iowa

Raps Republican leadership in Congress for unkept promises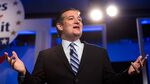 Donald Trump's run for the White House has been "immensely beneficial for our campaign," by clarifying the type of candidate primary voters want, Texas Senator Ted Cruz, another Republican presidential hopeful, said on NBC News' "Meet the Press."
Trump, a billionaire real estate developer and reality show host, has led most Republican polls for months. "He's framed the central issue of this Republican primary as, 'who will stand up to Washington?'" Cruz said of Trump during Sunday's broadcast.
Cruz said his own record of "actually standing up and taking on the Washington cartel" had created "grassroots momentum" for his White House bid. "Conservatives are coalescing behind our campaign" as they spend more time studying the candidates, he said.
An average of recent national Republican polls from Real Clear Politics showed Cruz and former Florida Governor Jeb Bush tied in fourth place behind Trump, retired neurosurgeon Ben Carson and Florida Senator Marco Rubio. In Iowa, which will be the first state to hold a nominating contest, Cruz is also running fourth.
'I Like Donald'
"Others have gone out of their way to smack him. I haven't," Cruz said of Trump during the wide-ranging 30-minute interview. "I like Donald."
Cruz saved much of his ire for fellow Republican lawmakers, rapping "leadership in both chambers" for what he said was the party's inability to achieve more despite holding majorities in both the U.S. House of Representatives and Senate.
"The truth of the matter is Republican leadership are the most effective Democrat leaders we've ever seen. They've passed more Democratic priorities than Harry Reid ever could," Cruz said, referring to the Senate Minority Leader. "The voters feel like Charlie Brown with Lucy and the football."
Cruz said House Speaker John Boehner is stepping down because "the American people are furious with Republican leaders that don't do what they promised," but added that he would not "stick my nose into" the battle for House leadership positions kicked off by Boehner's departure.