Your Halloween Ape Suit in Queens Is Taxed Like a Tuxedo
by
Gorilla and Easter Bunny not on streets daily, importer argues

Costume importers worry over rulings that bring hefty duties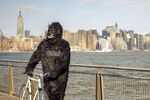 These are busy times for Rubie's Costume Co. in Queens, where its glass-plated storefront in the shadow of an elevated train track does a brisk business distributing gorilla suits, princess gowns and Jedi lightsabers ahead of Halloween.
Customers seeking Princess Leia wigs and gowns may not know Rubie's is fighting its own Dark Side: the U.S. Customs and Border Protection agency and its decisions to slap import duties of as much as 32 percent on costumes it classifies as durable clothing, rather than tariff-free "festive articles."
"It's not normal wearing apparel," insists Rubie's President Marc Beige. "Whether it be an Easter Bunny costume or a gorilla costume, you don't see people walking up and down the street in it on a daily basis."
The issue bears real consequences for an industry that relies almost exclusively on imports to supply the $2.4 billion-a-year U.S. Halloween costume market, not to mention spending around Christmas, Mardi Gras and St. Patrick's Day. Agency rulings, which can turn on the quality of a zipper or modesty of the coverage afforded the wearer, are inconsistent, according to Rubie's. That is making it nearly impossible for merchants in the price-sensitive market to anticipate which items will attract duties, the company told Customs in a letter last year.
Rubie's has filed a lawsuit and the issue has gained attention in Congress. The House Appropriations Committee added language to an appropriations bill this year saying it's aware of concerns the agency "may not be consistently applying its rules for classifying textile costumes and related items as festive articles."
'Disparate Treatment'
Some importers believe the process "is too subjective and leads to disparate treatment of similar imported items," according to the language inserted at the request of Representative Steve Israel, a New York Democrat. The committee told the agency to work with industry to make sure its procedures are "both fair and objective." The measure hasn't come before the full House for a vote yet.
Katrina Skinner, a spokeswoman for Customs, declined to comment.
Santa Claus -- "the beloved character" as Rubie's put it in correspondence with Customs -- is a flash point in the struggle that's hinged on whether seam stitching, hems and zippers elevate clothing to a status akin to men's suits and women's fine blouses.
In 2012 Rubie's, which calls itself the world's largest designer, manufacturer and distributor of Halloween costumes and accessories, asked Customs to rule on the Premier Plush Nine Piece Santa Suit. The suit is packaged in a clear soft-plastic bag with artwork that "depicts a merry individual wearing the costume in question and ringing a bell (not included with the product)."
Zipper Closing
The Santa top has a double-layer collar and a full-front zipper closing, both features of well-made clothing, Customs said in its 2013 ruling that called the outfit's construction "consistent with well-made articles of apparel."
Examples of flimsy styling include simple pull-on designs, a single-layer collar, and closures that "gap and fail to provide adequate modesty and coverage to the wearer," Customs said in its ruling.
Duties would be set at four different rates, from 17.6 percent to 32 percent, and applied to top, pants, gloves and toy sack, Customs said. It said the beard and wig are duty-free.
The decision baffles Rubie's attorney John Bessich.
"I suppose if you're importing it for Santa Claus himself, it's apparel -- it's what he wears," Bessich said.
Santa's Closet
Rubies paid duty on 36 Santa outfits at John F. Kennedy International Airport, and appealed to Customs to change its decision. The agency didn't respond, Rubie's said in a lawsuit filed with the U.S. Court of International Trade in New York asking for the tariff to be set at zero. Motions are due in January.
The entire process is exasperating for Beige, Rubie's president.
"It's very subjective, depending on who's in Customs or what port they're at or what mood they're in," Beige said. "Even if you have a binding ruling, you can submit a nearly identical costume in a different color and get a different ruling."
Take for instance a gorilla outfit, with faux-fur shoulders and padded chest. Customs in a 2010 decision noted its sturdy seams, and called it an item of everyday apparel, like a woman's blouse -- and subject to duties. In later decisions, gorilla suits were deemed to be duty-free.
Princess outfits for little girls offer a saga of their own. Last year Customs said it would revoke more than 60 prior rulings on clothing described as "Disney princess costumes," and Cinderella and Snow White dresses, putting the costumes at risk of higher duties.
Rubie's wants Customs to go back to its earlier, duty-free decision. "They are not expensive and well constructed ball gowns," Rubie's wrote last year to Customs.
It asked the agency to focus on the intended use of the item, saying princess outfits are "an impractical article that is not intended to be worn ordinarily and every day."
Before it's here, it's on the Bloomberg Terminal.
LEARN MORE