Volkswagen to Daimler: We Could Do With Your Help on Compliance
by
Daimler agrees to request for top executive to jump ship to VW

Volkswagen creates management board position for compliance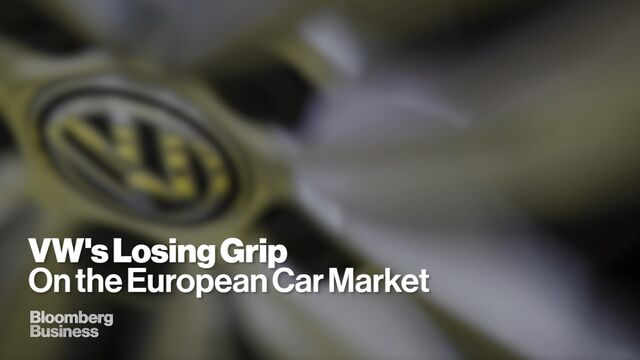 As Volkswagen AG reels from one of the worst corporate scandals in German history, Chairman Hans Dieter Poetsch had an unusual request for his counterpart at Daimler AG: could we have one of your top managers to help dig us out of this mess?
Surprisingly, Daimler Chairman Manfred Bischoff consented, releasing compliance chief Christine Hohmann-Dennhardt from her contract so that she can take over a new VW management-board position focused on integrity and legal affairs.
"We are delighted that Dr. Hohmann-Dennhardt has agreed to take on this responsible task and that we can build on her outstanding competence and experience," Poetsch, who took up his post only this month, said in a statement Friday. "At the same time we would like to thank Daimler AG for agreeing to our request to the early termination of Dr. Hohmann-Dennhardt's contract."
The two automakers have poached talent from one another in recent years and generally take a hard-line approach when someone jumps ship. After VW hired Andreas Renschler last year to run its commercial-vehicles unit, Daimler made the executive sit out the entirety of a non-compete clause. Daimler later responded by naming former VW CEO Bernd Pischetsrieder to its supervisory board.
Daimler, whose Mercedes-Benz unit competes with VW's Audi brand, said it agreed "in the interests of the good corporate governance of the German automotive industry."
Volkswagen has been beset by a scandal of cheating on emissions standards with the use of software in diesel cars. The manufacturer has switched its chief executive officer and has said it must rebuild the company's management, morale and structure, as it braces for billions in potential fines and damages from the rigged engines.
Daimler is helping VW and the entire German automobile industry "clean up the collateral damage from the diesel deceit," said Ferdinand Dudenhoeffer, director of the Center for Automotive Research at the University of Duisburg-Essen. "A better candidate couldn't have been chosen."
Hohmann-Dennhardt, whose contract was set to run until February 2017, will start at her new post in January.
Before it's here, it's on the Bloomberg Terminal.
LEARN MORE