United's New CEO Hospitalized After Heart Attack
by and
No word from carrier on whether anyone assuming Munoz's duties

`In the meantime, we are continuing to operate normally'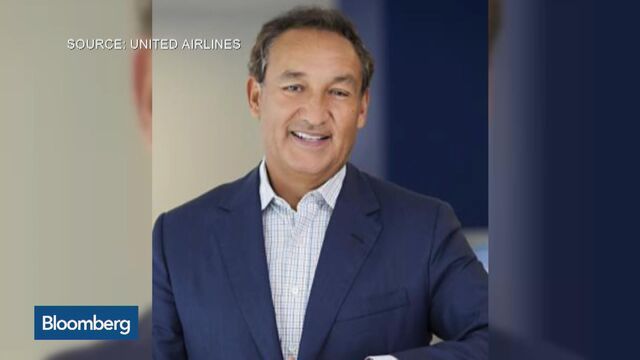 United Airlines Chief Executive Officer Oscar Munoz, who took the job just last month after his predecessor's ouster, has been hospitalized following a heart attack, a person familiar with the matter said.
The carrier declined to say Friday whether anyone had temporarily assumed the CEO's duties, and would only confirm that Munoz had been admitted a day earlier. There were no more immediate specifics on Munoz's condition, according to the person, who wasn't authorized to comment publicly for United and asked not to be identified.
Munoz's absence threatens to add to the turmoil at United, where former CEO Jeff Smisek was dismissed amid a federal investigation into the airline's ties to the former chairman of the Port Authority of New York & New Jersey. The 56-year-old CEO has highlighted the need for soothing strained union ties and improving service since his surprise hiring from railroad CSX Corp., where he was president.
"You're new on the scene, you go to collect commentary, you energize people," said George Ferguson, senior air transport analyst for Bloomberg Intelligence. "I think you've got to enact change or you lose some of that. There is a risk that some of that honeymoon period gets squelched here."
A United spokeswoman, Megan McCarthy, said the airline had no comment beyond its official statement, which read: "We have been informed by Oscar's family that he was admitted to the hospital on Thursday and we will provide further details as appropriate. In the meantime, we are continuing to operate normally."
A situation like United, with so many internal stresses, demands a faster and fuller public response, said Tim McNamara, managing partner of executive recruiter Boyden Global Executive Search in Washington. It's possible that the Munoz suffered only a minor incident and may quickly be able to return to work, or the episode might have been more serious. But people shouldn't be left to speculate, he said.
"For a company that has so recently been in turmoil, they even have a greater degree of responsibility," McNamara said.
Parent United Continental Holdings Inc. fell 3.1 percent to $55.97 at the close Friday in New York, joining a decline among most U.S. carriers. The stock's 16 percent drop this year compares with a 5.8 percent slide for the Bloomberg U.S. Airlines Index. The Wall Street Journal was the first to report on Munoz's illness.
2010 Merger
United has struggled with unions and computer breakdowns since being created in 2010 in the merger between former United parent UAL Corp. and Continental Airlines Inc. Smisek had been the new company's only CEO; Munoz has tried to foster more communication with employees in the weeks since taking over.
He has traveled to United operations around the world, popping in on ramp employees and in aircraft galleys to chat with flight attendants. In late September, Munoz wrote a letter to employees sharing their frustration at constant cutbacks in resources and relating how a flight attendant was "near tears" while telling him she was tired of apologizing to customers for lackluster service.
"This is a marathon with a running start," Munoz wrote. "I'm ready to take this team forward. It's time for a new day. Come with me."
A 2012 profile of Munoz in Hispanic Executive magazine described him as the oldest of nine siblings, a surfer and marathon runner. He served as a director at Continental from 2004 until the tie-up with United, and had remained on the board at the combined company.
"Mr. Munoz's challenges have been extraordinary," Vicki Bryan, an analyst at bond researcher Gimme Credit, said in a note. "He has taken on one of the largest airlines in the world in seemingly total disarray with critical failures to address in network operations, customer service, and labor relations -- the list goes on."
United canceled a summit meeting on Thursday between Munoz and union leaders, citing a personal matter for the CEO, and later briefed employees about the postponement without giving a reason.
"President and CEO Oscar Munoz was unable to attend, so we decided to reschedule as soon as possible," United said in the message. "This dialogue is extremely important to the company and Oscar as we continue to move forward in our discussions with all of our employees groups to make United the best airline for our employees and customers."
Smisek and two lieutenants left United last month as U.S. prosecutors probe whether ex-Port Authority chief David Samson got the airline to restart a money-losing route to his weekend home in South Carolina in exchange for political favors. United dropped that service, once known as "the chairman's flight," days after Samson left the agency in 2014.
Before it's here, it's on the Bloomberg Terminal.
LEARN MORE