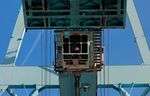 Employment is taking a dive in industries that sell a lot of U.S.-made goods abroad, and things could get worse before they get better.
The double whammy to exports from the stronger dollar and cooling overseas markets was bound to hit employment in the world's largest economy. JPMorgan Chase & Co. has put numbers to the damage.
Export-oriented industries have been losing about 50,000 jobs a month for most of this year, after adding 9,000 a month on average in 2014, according to JPMorgan economist Jesse Edgerton. Recent manufacturing surveys hint the impact could worsen, and the employment erosion may extend into the first half of 2016, he predicts.
In effect, that would mean private payrolls growth takes a step down to around 150,000 a month, from the booming 250,000-plus average of 2014.
"Employment is declining in industries exposed to exports, and we haven't seen any sign the decline is slowing down," Edgerton said. "The drag from job losses in export industries will linger on for some time at least."
Considering export-oriented jobs are among the better paying ones, that's a pretty sobering forecast. U.S. jobs supported by goods exports, for example, pay as much as 18 percent more than the national average, according to government estimates.  At a time of increased concern that growth is losing momentum, a strong labor market backed by jobs that pay well is key to sustaining consumer spending, the biggest part of the economy.
Edgerton has pieced out the hit to employment, which isn't easy to gauge from the Labor Department's monthly payrolls report. He developed a way to measure the share of each industry's output that is exported, both directly and indirectly through sales to other industries that cater to overseas demand. Using that, he worked out how payrolls are faring in those businesses compared with counterparts that focus on the U.S. market.
Trends in the top four industries with the largest export share — transportation equipment excluding motor vehicles; machinery; computer and electronic products; and primary metals — offer another reason for concern, Edgerton said. Payrolls have been slowing for decades in capital-intensive manufacturing businesses that dominate exports. So there's little reason to expect export jobs will see a return to positive territory.

One consolation is the job losses are "pretty much confined" to exporters, while "plain vanilla" industries selling to U.S. consumers have been largely shielded, Edgerton said. He found payrolls at non-export employers, typically service providers, are currently posting an average monthly gain of 203,000 . While that marks a downshift from 296,000 as recently as June, it's within the 150,000 to 300,000 range seen since 2013.  
Before it's here, it's on the Bloomberg Terminal.
LEARN MORE