Sturgeon Asks Scots to `Trust Me' as She Seeks Personal Mandate
by
SNP aims to build on Westminster success in Scottish elections

`I won't pretend we are perfect,' first minister Says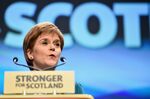 Scotland's First Minister Nicola Sturgeon said the success of David Cameron's Conservative Party in May's U.K. general election added to the case for Scottish independence. 
In a speech closing her Scottish National Party's annual conference in Aberdeen, Sturgeon focused her fire on English politicians, completely ignoring Scottish rivals. She painted the new leader of the Labour opposition, Jeremy Corbyn, as being too weak to change his party and argued that Scotland's politics is now on a divergent course from that of the rest of the U.K.
"For more and more people in Scotland, Labour's inability to mount a credible challenge for government will bring into sharp focus this fundamental truth," Sturgeon said Saturday. "The only real and lasting alternative to Tory governments that we don't vote for is independence for our country."
Sturgeon moved from deputy first minister to the top job in Scotland's semi-autonomous government in November 2014, after her predecessor Alex Salmond resigned, and May's Scottish Parliament elections are a chance for the SNP leader to get a personal endorsement from voters.
'Trust Me'
"The choice at any election is about more than individual policies," Sturgeon said. "It's about who you trust most, as your government and your first minister. Trust us, trust me, to do the best for you, for your family and for your community."
Following Scotland's vote by 55 percent to 45 percent to stay in the U.K. in last year's referendum, disappointed pro-independence voters flocked to the SNP's flag, helping it to win 56 out of Scotland's 59 seats in the House of Commons in London in May this year. Sturgeon is aiming to deliver a similar result in the Parliament in Edinburgh, increasing the SNP's majority.
On the question of when the SNP will try to hold another referendum, Sturgeon reminded her party it needs to "convince those we didn't convince last year." She repeated that the party will wait for "clear evidence that opinion has changed."
Sturgeon depicted Cameron as being uninterested in the Scots, telling him: "Ignore Scotland at your peril. Know that people are watching and listening."
The SNP has been hit by recent scandals, with one of the new members of Parliament, Michelle Thomson, suspended from the party over a police investigation into her property dealings. The chief constable of Police Scotland has had to resign over separate failings. However, Labour, the main opposition party in Scotland, is in disarray following the collapse in its vote in May.
"I won't pretend we are perfect," Sturgeon said. "Or that I am perfect. But I will promise this: We will always strive to be the best that we can be."
Before it's here, it's on the Bloomberg Terminal.
LEARN MORE