Steve Wynn's Most Candid Conference Call Ever: In His Own Words
By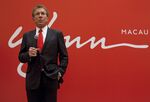 Who says earnings conference calls are boring and dry? Wynn Resorts Ltd. Chief Executive Officer Steve Wynn is so frustrated with the Macau government that he told analysts on the call -- five times -- he's never seen anything like this during his 45 years in the casino business. Below are excerpts of some of his most notable comments.
On the government's limits on gaming tables:
"The table cap is the single most counterintuitive and irrational decision that was ever made. Here we are spending billions of dollars creating non-gaming facilities, and then arbitrarily someone says, 'well you should only have this many tables.' No jurisdiction ever has imposed such - that kind of logic on us. And what it's done, it's turned our human resource planning inside out and upside down, and you can tell by the tone of my voice the extent of my frustration."
"We build tens of thousands of rooms and restaurants and attractions, but we say, 'you're not allowed to gamble because you can't have the tables.' Well that's one of the reasons they come to Macau. If you wanted to undermine and scuttle the viability of that industry, you'd put in table caps and you can tell I'm a tremendous critic of that decision because I don't understand it in terms of anything, in my 45 years of experience, that explains it."
"But understand that the reason that these extraordinary non-gaming attractions exist is because the damn casino is the cash register."
On the lack of clarity over those tables:
"I have no idea how many tables we're going to have. The notion that a person who spent $2.5 billion, I'm talking about Melco now, would not know how many tables they're going to have three weeks before they open is so preposterous that it's worthy of comment."
"That notion of finding out how many tables you're going to get three weeks before you're opening is outrageous and ridiculous. Ridiculous is the word for it. We've never operated a business this way."
On why tables mean jobs:
"With these big hotels and their massive footage that's dedicated to non-casino, you need tables to do that. You can't do it with 150 or 250 tables. You need 400 or 500 tables to do it effectively and to support the work force."
"Otherwise, the workforce gets cut back and you have layoffs and all these things that have never happened in my career. In 45 years, I've never had a layoff."
"And how in the world do we underwrite the job security of the local workforce in Macau, keep the promise of promotions and better opportunity under these circumstances? I am at a loss to answer that question."
"The government wanted us to build highly diversified non-gaming structures. We went and did it for $10 billion or more, if you count all of us, the largest being us at $4 billion. How in the hell can you run those places without employees? I mean, what are we supposed to do? Shut down the floor? Close the restaurant? Curtail the very thing that they told us that they wanted to see happen? Without employees, it's so ludicrous that it defies rational conversation."

On this not being a typical call:
"I don't know that this has been the most satisfying quarterly phone call we've ever had, but at least it's the most candid and the most honest one that we could possibly give everybody that is interested in our company."