Nestle Reduces Sales Outlook Amid Weakness in Chinese Market
by
Foodmaker cuts revenue growth outlook to about 4.5% from 5%

Company resumes Maggi noodle production after Indian recall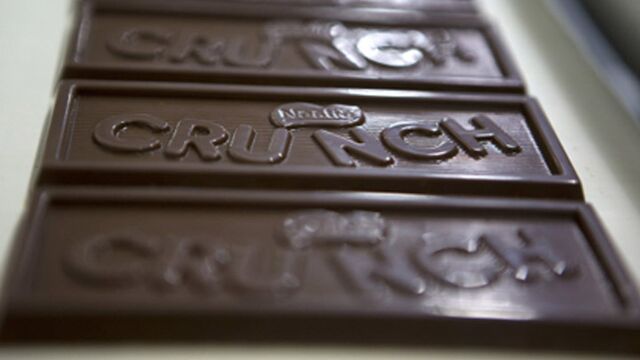 Nestle SA said it will fall short of its long-term growth target for a third consecutive year amid weakness in China, highlighting the volatile conditions in emerging markets that continue to weigh on European consumer-product companies and retailers alike.
Sales will probably rise about 4.5 percent on an organic basis in 2015, the Vevey, Switzerland-based maker of Nespresso coffee said Friday, abandoning a previous forecast of about 5 percent. Nine-month revenue advanced 4.2 percent, missing analysts' estimates, as a recall of Maggi noodles also eroded sales in Asia. The stock made its steepest intraday decline in almost two months.
Nestle Chief Executive Officer Paul Bulcke said he would be "the last to lower our ambitions" after analysts questioned whether the company should reduce its long-term average goal of annual sales growth of 5 percent to 6 percent. The KitKat maker's performance is in contrast to Unilever, the producer of Ben & Jerry's ice cream, which said Thursday full year-sales growth will be near the top end of its forecast.
"This is a real disappointment and questions around the Nestle model of 5 percent to 6 percent organic growth will only increase," wrote Warren Ackerman, an analyst at Societe Generale.
Stock Drops
Nestle shares declined 1.9 percent to 73.70 francs as of 10:47 a.m. in Zurich. The stock is little changed this year, while Unilever has gained 20 percent. The British-Dutch company said it had double-digit growth in China, bolstered by online sales.
India's recall of Maggi noodles, which has kept them off store shelves for six months, wiped about 0.3 percentage points off nine-month sales growth, Chief Financial Officer Francois-Xavier Roger said at a press conference. Nestle said it's starting to produce the noodles again after three laboratory tests cleared 90 samples and will start selling them once it gets final clearance. Shares of Nestle India rose as much as 7.6 percent.
Sales in Nestle's Asia, Oceania and Africa region fell 0.5 percent, after revenue in those markets rose 0.8 percent in the first half. The food company said the Chinese market is recovering slower than it expected. Nestle got 6.6 billion francs of revenue from Greater China in 2014, 7.2 percent of its total sales, making it the company's second-largest market, after the U.S.
Nestle also said its skin health unit took a one-time charge in the third quarter as it adjusted its prescription drug rebate policy in the U.S., taking a more "conservative" approach. Excluding that adjustment, Nestle's nine-month organic sales growth was 4.5 percent, estimated Jean-Philippe Bertschy, an analyst at Bank Vontobel in Zurich. The median analyst estimate for organic growth was 4.7 percent.
The company also said it aims to build a 10 billion-franc business out of its Nestle Health Science unit, which is developing food that can help treat chronic diseases.
The company's definition of organic sales growth excludes acquisitions, divestments and currency shifts.
Before it's here, it's on the Bloomberg Terminal.
LEARN MORE