LSE's Assault on Europe's Futures Giants Leaves the Shadows
by
Ex-Morgan Stanley banker Bill Templer is lined up as first CEO

Basel III is pushing banks to seek efficiencies from clearing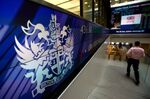 London Stock Exchange Group Plc for the first time confirmed that it will start a futures exchange to compete with the entrenched derivatives markets owned by its rivals Deutsche Boerse AG and Intercontinental Exchange Inc.
The project, called CurveGlobal Ltd., is a venture with six banks and the Chicago Board Options Exchange, according to a statement Friday. The consortium wants to break the effective duopoly that Deutsche Boerse and ICE enjoy in offering listed derivatives on European government debt. While LSE had kept quiet about Curve, the exchange's existence had been revealed in several news reports.
People in the know referred to the new market as "Project Rita" when work began in 2013. The code name was a nod to the love interest in the movie "Groundhog Day," in which Bill Murray's character is condemned to repeat the same day over and over until he wins the love of Andie MacDowell's character, Rita. The industry's repeated failed attempts to create a new futures market bear a resemblance to the film's plot.
Bill Templer, a managing director at Faventus Consulting, will probably become Curve Global's chief executive officer, according to people familiar with the discussions. Templer has worked at Morgan Stanley and UBS Group AG. Cathryn Lyall, a director at Minnamurra Consulting Ltd., is likely to be the new market's chief operating officer, said the people, who declined to be identified citing confidentiality. Lyall has worked at ICAP Plc and the Chicago Board of Trade.
"We haven't made any staff appointments yet apart from my announcement as the chairman of this new venture," said Michael Davie, chairman of CurveGlobal. Davie, currently COO of LSE's clearing division, LCH.Clearnet Group Ltd., will move to the parent company as head of rates services. He previously worked at JPMorgan Chase & Co.
CurveGlobal goes live in the second quarter of next year. The banks backing the venture are Goldman Sachs Group Inc., JPMorgan, Bank of America Corp., Barclays Plc, Citigroup Inc. and Societe Generale. More shareholders are expected to join in the coming months.
The London exchange operator had already diversified into clearing and indexes, leaving derivatives trading as the most obvious gap in its portfolio. Regulations put in place since the last financial crisis may provide the key to help LSE fill that hole.
Basel III rules require banks everywhere to carry more capital to absorb potential losses. The hope is that they will be able to reduce capital holdings through a process known as portfolio margining. The service reduces the amount of derivatives that appear on a bank's balance sheet. It works by offsetting futures trades against swap trades that are held in the same clearinghouse.
That's where LCH.Clearnet, the clearinghouse majority-owned by London Stock Exchange Group, comes in. By reintroducing futures to LCH, which is already the world's biggest clearer of swaps, Project Rita could lessen the banks' capital burden.
"The focus right now is getting this thing live, getting it fully working," Davie said. "Allowing our customers to benefit from the portfolio margin offering that's in LCH and to allow them to put futures and swaps together, that's the key critical thing."
LCH.Clearnet's interest-rate portfolio-margining service will start before the end of March 2016, depending on regulatory approval.
The new market will offer futures trading based on U.K. and European government debt, and short-term interest rate contracts in Euribor and Short Sterling and long-term interest rate futures in bund, bobl, schatz and gilts. Further products will be added in the coming months.
"The launch of a derivatives exchange is a positive development in our opinion," Peter Lenardos, an analyst at RBC Capital Markets in London, wrote in a note. "We believe that trading on CurveGlobal and clearing through LCH.Clearnet will allow customers to use their collateral in a more efficient manner, which should also be helpful for volume development."
LSE faces staunch opposition from the incumbent futures markets. Deutsche Boerse, ICE and CME Group Inc. account for 80 percent of trading in interest-rate products.
Examples of failed attempts to start new futures markets include Eurex U.S., which shut after two years of trying to break into U.S. rate futures in 2006. ELX Futures LP in 2009 was unable to put a dent in CME's business. Brokers including UBS Group AG held talks in 2008 on starting a derivatives exchange named Project Rainbow that never gained traction.
The London exchange operator is investing 9.5 million pounds ($14.7 million) in CurveGlobal, while the other investors will provide 20.5 million pounds.
CurveGlobal was registered with the U.K. Companies House on Sept. 24. Lisa Condron, secretary at the London exchange, was listed as a director. LSE was listed as a corporate director when the document was filed.
Before it's here, it's on the Bloomberg Terminal.
LEARN MORE