India Better at Promoting Women in Banking, ICICI CEO Says
Katherine Chiglinsky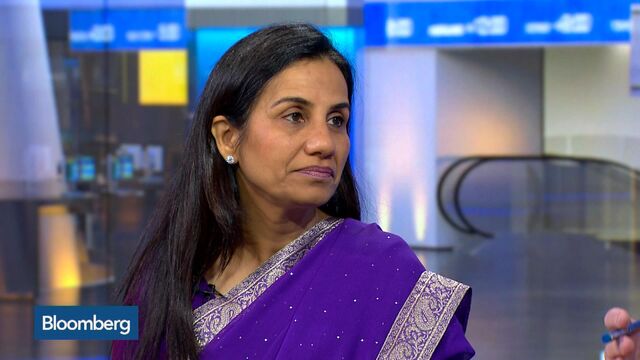 India has made more progress in promoting women to the highest ranks of the banking industry than other large nations, ICICI Bank Ltd. Chief Executive Officer Chanda Kochhar said.
"I think India is actually doing much better in this respect than the rest of the world," Kochhar, said Friday in a Bloomberg Television interview. "When I sit on many of these international forums around banking, there's hardly any women there."
Kochhar, 53, has credited former CEO Kundapur Vaman Kamath for making what turned into a career-changing decision for her, according to a 2011 interview with Bloomberg Markets magazine. He let her take a half-year hiatus from her job as head of infrastructure financing at the Mumbai-based bank after she was overwhelmed by work and family life, according to the interview. The change from India's typical three-month maternity leave made the difference. Thirteen years later, in May 2009, Kochhar succeeded Kamath as CEO.
Kochhar also said in the Bloomberg Television interview that Prime Minister Narendra Modi has made progress in trying to boost economic growth.
"I think he, as a leader, has done a lot in the last 15 to 18 months in terms of steering the country in the right direction," Kochhar said. "India's a complex country and everything to translate into the real world takes longer than what we all expected it to be."
Interest Rates
Credit growth has been a missing link in Modi's efforts to bolster Asia's third-largest economy, as stalled projects and an investment slowdown curb demand for funding. Benchmark interest rates in India are among the highest in Asia, even after four reductions by the central bank this year.
ICICI started as "newcomers" competing with government-owned firms, and its strategy has been to innovate and use technology to increase banking accessibility and affordability, Kochhar said.
"When we entered banking, the customers used to do all their transactions at the branches," she said. "Today, for us, the customers do less than 10 percent of their transactions at the branches."
Before it's here, it's on the Bloomberg Terminal.
LEARN MORE