HSBC CEO Gulliver Says Fears Over China's Growth are Overblown
by and
Bank may push back decision on potential HQ relocation to 2016

Gulliver says Chinese economy won't suffer a 'hard landing'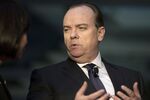 HSBC Holdings Plc Chief Executive Officer Stuart Gulliver, who's increasing the bank's investment in China while reviewing whether to move its headquarters away from London, said he remains optimistic about the Asian economy's outlook.
"The fears for China's economy are overplayed," Gulliver said at a conference in London on Friday. "On balance, I do not believe that China will have a hard landing."

Stocks worldwide have been pushed lower amid concerns that a slowdown in China, the second-largest economy, will hurt global expansion. At HSBC, which generates most of its earnings across emerging markets, Gulliver has been expanding asset management and insurance in Asia and focusing on regions including China's Pearl River Delta to strengthen the position of Europe's largest lender.
"The last few months have obviously been difficult," Gulliver, 56, said. "But volatility is absolutely natural in any market-driven economy and it should not be allowed to distract from the fundamentals of China's journey."
Gulliver said China's expansion should continue to outpace global growth, when forecasting gross domestic product to rise about 7 percent in 2015. That's in line with the government's growth target.
Official data due on Oct. 19 will probably show China's economy grew 6.8 percent in the third quarter, the slowest pace since March 2009, according to the median estimate of 25 economists in a Bloomberg survey.
HSBC plans to reduce risk-weighted assets across its global network by $290 billion before redeploying as much as $230 billion to support Asia and other growth areas of its business. A slowdown in the region could prevent him from investing as much as previously planned, which may result in the excess being returned to shareholders by way of dividends, analysts at Citigroup Inc. have said.
Gulliver said HSBC's board may need more time than it originally planned to decide where to locate its headquarters, with the timetable potentially delayed to 2016 instead of the end of this year. The decision "can't slip too far" because it's disruptive for staff, he said on the sidelines of a conference in London on Friday.
HSBC started considering whether to uproot its headquarters from London this year as the board mulled a rising tax burden, tougher regulation and the risk of Britain exiting the European Union in a referendum.
HSBC shares have dropped about 14 percent this year.
Before it's here, it's on the Bloomberg Terminal.
LEARN MORE