Doctor Questions Theranos as His Employer Plans Lab-Test Pilot
By , , and
Intermountain endocrinologist questions accuracy of blood work

Theranos says medical industry is resistant to change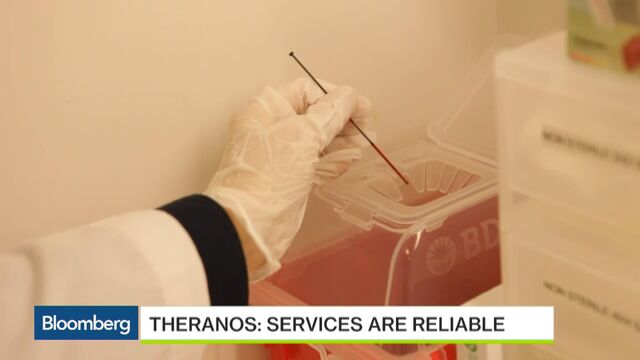 A senior doctor at one of Theranos Inc.'s partners for a pilot program of its blood-testing technology questioned the accuracy of the startup's tests, adding to mounting criticism of the Silicon Valley company.
Theranos rose to prominence because of its plan to compete with traditional testing labs by obtaining small samples using only a fingerprick's worth of blood. The Wall Street Journal reported this week that the health-care startup, which the newspaper valued at $9 billion, has used the same technology as its competitors for most of its blood tests, undermining the company's promotion of its technology as an advance in the health-care industry.
"Theranos has refused to disclose their methods, they have never made their data public, they have not gone through the peer review process," Joel Ehrenkranz, director of endocrinology at Utah-based hospital system Intermountain Healthcare, said during an interview with Emily Chang on Bloomberg Television on Thursday evening. "They don't play by the rules of science or medicine. They are not transparent."
A spokesman for Intermountain said Ehrenkranz wasn't speaking for the hospital system.
In an interview Thursday, Theranos Chief Executive Officer Elizabeth Holmes responded to Ehrenkranz's comments, saying the medical industry is typically resistant to change.
"It is completely normal for someone to say, 'I don't know if this is real,'" she said. Over time, Theranos is persuading doctors one by one, she said.
Pilot Program
Theranos and Intermountain are still planning their limited pilot program for blood testing, and a start date hasn't been determined, said Daron Cowley, a spokesman for the hospital system. Intermountain will run the study at one clinic where Theranos technology will be used alongside traditional blood testing, Cowley said. Ehrenkranz isn't involved in the pilot program.
Theranos, based in Palo Alto, California, received approval from U.S. regulators in July to use its blood tests for the herpes virus. Holmes said in the interview that the company can perform other, accurate tests with a fingerprick of blood once the Food and Drug Administration grants approval for more uses.
Ehrenkranz said that such statements are unclear and unrealistic since no one knows what qualifies as a "fingerprick" and most tests require more blood.
"Within the industry, the consensus is that this is too good to be true," he said.
Theranos didn't have an immediate comment on Ehrenkranz's statements on the accuracy of its tests.