Hillary Clinton Is Winning the Race for Wall Street's White House Cash
Max Abelson and Jesse Hamilton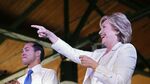 Hillary Clinton has said she'd prefer to find other ways to regulate the banks besides breaking them up. Wall Street donors are showing their appreciation.
The Democrat's campaign is collecting more cash from employees of the six biggest U.S. banks than any other presidential candidate, adding more than $155,000 last quarter to more than $300,000 from earlier this year. She beat Republican rival Jeb Bush, who got at least $390,000 from the bankers over the last two quarters, even though he worked among them last decade.
Clinton offers at least one major reason for Wall Street to get behind her, proposing tweaks to the financial system while other Democrats call for breaking up the biggest firms.
"One serious approach being advocated is to pass an updated Glass-Steagall Act, separating commercial and investment banking, to reduce the size of the banks and the risk of a taxpayer bailout," she wrote in an opinion piece published by Bloomberg View last week. "I certainly share the goal of never having to bail out the big banks again, but I prefer the path of tackling the most dangerous risks in a different way."
Her rivals have said otherwise.
"If an institution is too big to fail, it is too big to exist," Vermont Senator Bernie Sanders said in May as he filed a bill to break up lenders including Goldman Sachs Group Inc., Citigroup Inc. and JPMorgan Chase & Co. Former Maryland Governor Martin O'Malley's "Open Letter to Wall Street's Megabanks" in July demands that they apologize for the 2008 financial crisis and thank taxpayers for their bailouts.
The fundraising numbers filed Thursday with the Federal Election Commission do not include super-PAC contributions. Employees of the big U.S. banks have given more to Right to Rise USA, the super-PAC supporting Bush, than to Priorities USA Action, which backs Clinton.
Bush has history with Wall Street. After he left the Florida governor's office he got a contract with Lehman Brothers Holdings Inc. in 2007 and 2008, and a similar deal with Barclays Plc. Lehman paid Bush about $1.3 million a year and Barclays paid him about $2 million a year through 2014, according to his campaign.
Clinton has also made inroads on Wall Street. She's brought in hundreds of thousands of dollars for the Clinton Foundation by giving speeches to firms including Citigroup and Goldman Sachs.
She's argued that a big threat to the financial system is shadow banking, associated with firms including asset managers and money-market funds. A Clinton White House chasing that sector could answer a big Wall Street complaint since the 2010 financial overhaul: Regulations squeeze banks while leaving some rivals untouched. Goldman Sachs researchers said this year that shadow banking could grab $11 billion in annual profits from old-school lenders.
JPMorgan Chief Executive Officer Jamie Dimon called out "increasingly sophisticated shadow banks" in a letter to shareholders last year. He wrote that regulators should and will be looking at them, too.
Josh Schwerin, a Clinton spokesman, said she "believes that the measure of our success must be defined by how much incomes rise for hard-working families, not just CEO's and money managers. The nearly 400,000 people who have supported Hillary's campaign know that's what she's fighting for."