Clinton Campaign Applies 2008 Spending Lessons to Try to Defeat Sanders
The Democratic front-runner's team has cut travel and consulting costs while pouring more early money into advertising.
By and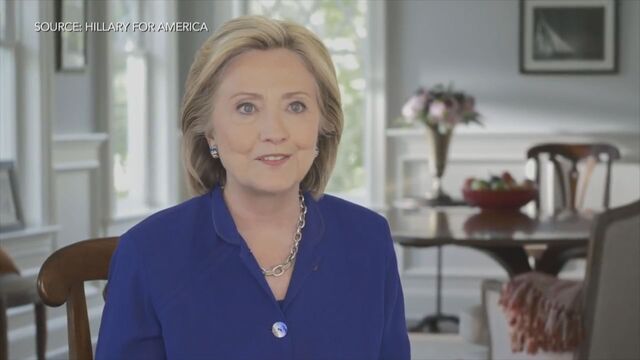 This year's Hillary Clinton campaign is not the 2008 model. 
The Democratic candidate is running a different kind of campaign than she did when she unsuccessfully sought her party's nomination for the presidency, an analysis of her recent TV ad buys and her third-quarter campaign finance report reveals. Privately, the campaign says they're spending their money more wisely this time, aiming to correct some mistakes of the past, as they focus to build an in-house team that can sustain itself through the primaries and into the general election.
In the third quarter of 2007, the campaign spent $1.2 million on private airfare. For the quarter that just ended Sept. 30, Clinton's expenses in that category were $560,000. During the third quarter of 2007, Clinton spent $1.35 million on consulting. For the same period this year, she reported spending $301,000 on services described as consulting. When she and her entourage arrived in Las Vegas for this week's Democratic debate, Clinton stayed at the Four Seasons Hotel, but many of her staff shared rooms at Circus Circus, where rooms cost about $50 a night. At Clinton events this year, the campaign has been asking guests to pay for their own valet parking, food, and drinks. The effect is visible on the bottom line: Clinton's third-quarter spending on events and venues fell 79 percent from the same period eight years ago, to $374,000.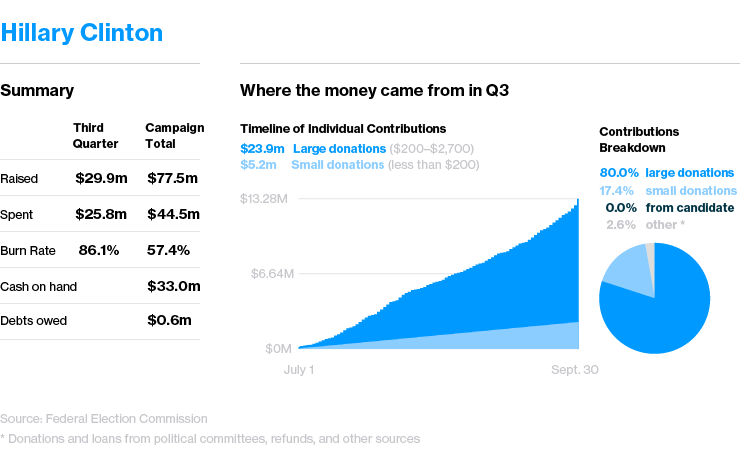 In early 2008, Clinton's campaign finances became of great concern to donors after she lost to Barack Obama in Iowa and faced a grueling nominating fight. "We didn't raise all of this money to keep paying consultants who have pursued basically the wrong strategy for a year now," the New York Times quoted an unnamed donor saying that year.
On an inflation-adjusted basis, her spending fell almost 1 percent to $26 million in the third quarter compared to the same period eight years ago. Nonetheless, her "burn rate" is higher: During the third quarter of 2007, Clinton spent 81 cents of every dollar she raised. This time around she spent almost 86 cents.
That's because, for all the cuts Clinton has made on travel, consultants, and events compared to eight years ago, her advertising costs have soared. She spent $3.39 million on media buying, $2.66 million on online advertising, and $2.53 million in direct marketing, according to the campaign finance report she filed Thursday at the Federal Election Commission. While her report doesn't break out details about her media buys, Kantar Media's CMAG data estimates that Clinton spent $3.5 million on broadcast TV ads in August and September, which compares to $1.7 million eight years ago.
In 2007, Clinton was late to the party when it came to TV ads. Obama hit the TV airways with ads in late June—weeks ahead of her, according to Kantar Media.
"In that previous campaign, she campaigned as the candidate of inevitability and that's dangerous because if you hit a speed bump all of a sudden you're not so inevitable and there goes the rationale for your candidacy," said Dennis Goldford, a political science professor at Drake University in Des Moines, Iowa, where he's seen many of her new ads. "A key thing this time around is that she's got to work for the nomination, even if she's in a predominate position, Bernie Sanders is in a position to embarrass her, at the very least."
Sanders, Clinton's chief rival this year, has yet to run a broadcast ad. For the first week of August alone, Clinton's advertising bill from KCCI-TV, the CBS affiliate in Des Moines, was about $71,000. That was just the start.   
Her campaign placed more than 5,000 spots on broadcast TV in Iowa, New Hampshire, and Boston during the final two months of the third quarter, according to Kantar Media. That compares to 1,685 spots during the same period in 2007.
The ad push came as she was being pilloried for her use of private e-mails as the nation's top diplomat and while Sanders's presidential campaign gathered steam. 
"Weakening polls have led the campaign to decide to take their story directly to the voters in Iowa and New Hampshire in order to try to solidify her base vote," said Tony Corrado, a government professor at Colby College. The most recent Bloomberg Politics/Des Moines Register Iowa Poll, for example, found that Clinton is the first choice of 37 percent of likely Democratic caucus-goers, followed by Sanders with 30 percent. In May, in the poll, her support was at 57 percent and Sanders was at 16 percent.
Still, Clinton's staff is expressing confidence: The campaign is on track to raise a total of $100 million during the primary, Robby Mook, Clinton's campaign manager, said in a statement. 
Clinton's finances, if independent groups supporting her are included, are better than they were at this point in 2007. Priorities USA Action, a super-PAC backing her, said it raised $15.7 million during the first half of the year and another $25 million in the third quarter. In 2007, before the 2010 Supreme Court ruling cleared the way for super-PACs to raise unlimited funds, her campaign had $50.5 million in cash on hand at the end of the third quarter.
Also, in the third quarter this year, the Hillary Victory Fund raised more than $3 million of which $600,000 was transferred to the Democratic National Committee.
"These numbers are a testament to broad support for Hillary Clinton's vision for America," Mook said.