business
China Swoons Over Xi's Imminent Royal Treatment on U.K. Visit
By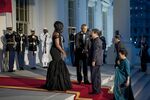 China's press is in a swoon over the royal honors to be accorded President Xi Jinping and his wife on their state visit to the U.K. next week.
China Daily, the country's official English-language newspaper, has devoted a front-page story that chronicles in detail the signs of respect Xi will be shown during his trip. Other Chinese media are also enthusiastically reporting the impending events.
Xi will be Queen Elizabeth II's overnight guest at Buckingham Palace. He'll also be treated to an informal private lunch with the Queen, a ride in a state carriage along The Mall, a banquet prepared by a bevy of chefs and served on a horseshoe-shaped table adorned -- China Daily reports -- with 100 silver-gilt candelabra all capped off by a 103-gun salute.
It'll be a "super state" visit, China's Ambassador to the U.K. Liu Xiaoming told reporters at a briefing in London, China Daily reported.
It's a familiar refrain. Chinese media obsessively chronicled every detail of Xi's state visit to Washington last month, describing each dish served at the state dinner, along with the significance of flowers used for the decor (the rose is precious in the East and the West) and the 21-gun salute.
The coverage reflects a Communist party priority -- boosting Xi's stature to the domestic audience at a time China's being buffeted by the slowest economic growth in a quarter century and after a stock market rout wiped out more than $4 trillion from the value of Chinese stocks.
"Xi has greatly personalized CCP rule so it's a bit about that and of course meshes with authoritarian tendencies to hyperventilate about the leader," said Nick Bisley, a professor of international relations at La Trobe University in Melbourne. "Essentially, it's a proxy for recognition accorded to China. All these honors are in effect honors to China and are a reflection of the successes of the nation."
The U.K. visit come on the heels of a series of events that served to elevate Xi's status at home, not least last month military parade to mark the 70th anniversary of China's victory over Japan. It was the first time the event was marked with a parade -- and came four years before the Chinese president would typically preside publicly over China's military.
Should Xi tire from his duties as leader of the world's next emergent superpower, at least he'll be comfortable. At Buckingham Palace, he and his wife will stay in the Belgian suite, previously occupied by Prince William and the Duchess of Cambridge on their wedding night, the Beijing News noted.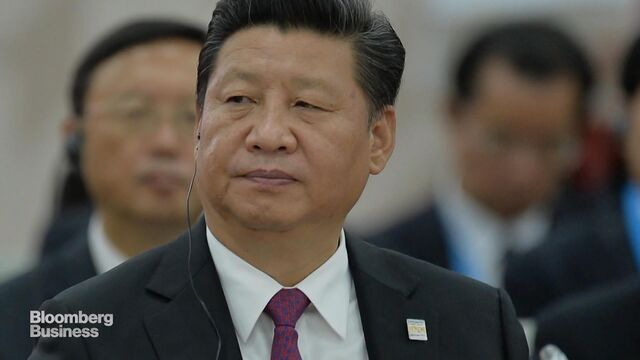 — With assistance by Ting Shi
Before it's here, it's on the Bloomberg Terminal.
LEARN MORE