Charting the Markets: Equities on the Rise Again
European equities rise for a second day, Nestle sinks, and VW's market share in Europe slides after the company is engulfed in an emissions-cheating scandal.
By
It's been a good day for global equities. Energy stocks led Europe higher as oil rebounded after a four-day decline. In Asia, the Shanghai Composite Index had its best week in four months on optimism China will accelerate reforms of state-owned companies. The Hang Seng China Enterprises Index advanced 1 percent in Hong Kong, taking its rise since the end of September to 13 percent. Friday's trading volumes jumped to their highest level since Sept. 2, a sign the market was luring back investors.

European equities rose for a second day after Asian stocks posted gains, extending a rally that's added more than $4 trillion to global equities this month. And again it's because bad economic news has been good for stocks. A slew of weaker-than-expected economic reports from China, Europe and the U.S. scuttled bets the Fed will raise interest rates this year. Traders put the likelihood of the Fed raising rates before the end of the year at just 30.4 percent. The Stoxx600 has risen close to 4 percent this month. European equities rose despite bad news from Nestle and VW, two of Europe's biggest companies. 

Nestle fell at the start of European trading, dropping as much as 3.2 percent, its biggest intraday swing in three weeks, after cutting its forecast for organic sales growth this year. The world's largest foodmaker said sales will probably rise around 4.5 percent in 2015, less than its previous 5 percent target. Today's bad news doesn't help the company in its battle with Ben & Jerry's maker Unilever, which has outperformed its larger rival this year.
What's wrong at Nestle? Earlier this year, Nestle posted its first quarterly loss in 15 years in India after pulling its Maggi noodles from shelves. Sometimes dubbed the country's third staple after rice and lentils, Maggi noodles are known for taking just two minutes to cook and (in India) two minutes to find, but they have been off Indian shelves now for six months. Regulators have called the noodles "hazardous" after they claimed they had excess lead and contained MSG. While pulling its product throughout the second most-populous country, Nestle says its lab results indicate the product is safe. 
Nestle also blamed a sluggish recovery in China for the change to the forecast.  

To say it's been a terrible month for Europe's largest car maker would be an understament. VW's sales in Europe rose by 8.3 percent in September, while European car sales overall rose 9.8 percent, according to new data from the European Automobile Manufacturers' Association.
VW's sales hit follows a revelation the company cheated on diesel exhaust tests. VW's market share in Europe fell to 23.3 percent from 23.7 percent, the lowest since March.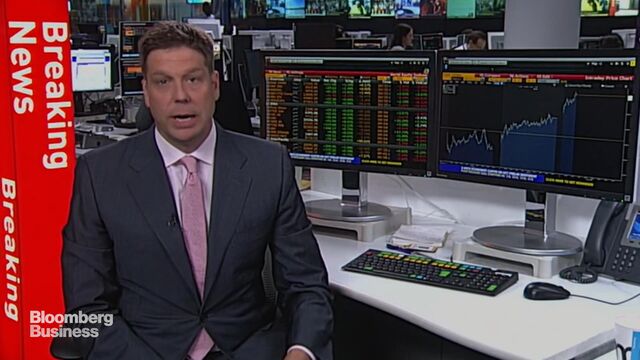 Ryan Chilcote is a presenter on Bloomberg TV. Follow him on Twitter @RyanChilcote