Bond Traders Face Incredible Shrinking Bonus as Revenue Tumbles
By , , and
Fixed-income revenue dropped 11% so far in 2015 amid turmoil

Weak bond trading puts pressure on firms to cut pay, jobs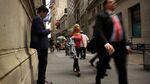 Equities traders, be kind to your brethren on the fixed-income desk: Their year started with such promise and is headed for a sour ending.
Traders of bonds, currencies and commodities are facing a shrinking year-end bonus pool after their revenue in the first nine months slumped 11 percent to $32 billion at the four biggest U.S. investment banks, according to results announced by the firms this week. That business started the year on decent footing, stumbled in the first half and then tumbled in the third quarter. Meantime, equities revenue surged 18 percent to $16.7 billion.
While that leaves equities traders in a relatively better position, the bond bust isn't good for anyone working in markets divisions, because it still puts pressure on banks to push down compensation and consider other cost-saving measures. Investment banks typically limit the amount of revenue spent on employees to roughly 37 percent, based on pay data from the past two years, according to Jessica Lee of recruitment firm Options Group. The biggest U.S. firms aren't likely to carve out much more for their workforce.
"Many of these businesses are challenged and margins aren't what they used to be," said Paul Sorbera, president of New York-based recruiting firm Alliance Consulting. "It's a negative environment so they don't have to move comp up, and they could move it down."

Four of the five biggest U.S. investment banks reported earnings this week: JPMorgan Chase & Co., Bank of America Corp., Citigroup Inc. and Goldman Sachs Group Inc. The fifth, Morgan Stanley, discloses figures Oct. 19.
The divergence visible so far is reflected in moods on Wall Street, according to an Options Group survey completed this month. About 43 percent of fixed-income traders don't think they'll be compensated fairly this year, compared with 22 percent of equities traders.
Bond traders already were seeing diminishing paychecks after the financial crisis prompted regulators to boost capital requirements and curtail some risk-taking. A typical managing director on a fixed-income desk who made $2 million before 2008 is probably making about $700,000 now, Sorbera said. That wouldn't include top performers or those in busy markets, such as collateralized loan obligations, he said.
Starting 'Strong'
Back in February, JPMorgan investment bank chief Daniel Pinto said the trading year was off to a "very strong" start. That turned by midyear, as spreads widened amid concern that Greece would exit the euro. Slowing growth in China, the world's second-largest economy, triggered an August plunge in the nation's equities and exacerbated a global commodities rout, prompting clients to curb trading in credit, commodities and securitized products. Now that sluggishness may drag into the final quarter, typically the slowest of the year.
In the third quarter, "it was tougher to make money because less was happening," JPMorgan Chief Financial Officer Marianne Lake said on a conference call Tuesday, cautioning analysts that estimates for fourth-quarter trading may be too high. "So far in October, across asset classes, the markets are pretty quiet," she said.
Bond-trading revenue fell 34 percent at Goldman Sachs, pushing quarterly profit below analysts' estimates for the first time in four years. The firm has stood by those operations as rivals announced plans to scale back or abandon the business. On a conference call Thursday, CFO Harvey Schwartz said it may take a while longer for client activity to pick up and for rivals to follow through on plans to withdraw, handing over market share.
In equities, a smaller Wall Street business with thinner margins than in fixed income, traders benefited from demand for derivatives and efforts to increase the profitability of serving prime-brokerage clients.

Compensation decisions start to solidify in November, as the year's results are largely set. At the end of last year, a poor performance in late December led Citigroup executives to cut the bonus pool for traders and salesmen after planning to keep it roughly flat, a person familiar with the decision said at the time.
If trading revenue doesn't improve, firms will need to reduce their ranks, Bank of America Chief Executive Officer Brian Moynihan has said. His company cut about 200 jobs across its trading and investment banking units last month.
"Headcount continues to work its way down in our company," Moynihan said this week in a Bloomberg Television interview. "That's the expense mantra that we all talk about."