Show Me the Money
What to Watch as Presidential Candidates File Third-Quarter Fundraising Reports
By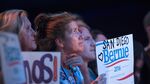 For much of this year, attention has been focused on the really big money in politics—the unprecedented number of seven-figure contributions that super-PACs posted this summer. On Thursday, when candidates for president and for Congress (who, unlike super-PACs, have to abide by federal limits on contributions), the numbers will have fewer zeroes after them. Nonetheless, the numbers will be carefully parsed. To those who know how to read them, they will offer important clues about which candidates are gaining or losing ground and how wisely or profligately they are spending their resources.
Here's what smart analysts will be looking for in today's filings.
1. Who gets the most in small bills? 
Since the last campaign finance filings, Republican presidential hopefuls Scott Walker and Rick Perry have withdrawn from the race. Between them, the two veteran state executives (Walker is in his second term as governor of Wisconsin; Perry was the longest-serving governor of Texas) had a combined $39 million in independent political groups supporting them at the end of the first half of the year, proving outside super-PACs and their seven-figure check writers can't keep a campaign afloat. Since Democrats Howard Dean and Barack Obama proved candidates could raise big money by piling up small-dollar contributions, more attention is being paid to percentage of contributions that candidates amass in denominations under $200, not only as a measure of financial support but as a measure of grassroots enthusiasm.
"It tells you whether candidates are getting any sort of traction with direct donors," said Trevor Potter, president of the Campaign Legal Center and former chairman of the Federal Election Commission. "It tells you about the nature of the support they are going to have."
Small donations are a rare forward-looking indicator for the health of a campaign. A candidate can go back to small donors multiple times until they reach the $2,700 limit. The higher the portion of donations already "maxed out," the smaller the fundraising base for the next quarter.
At this point in the 2012 campaign, Obama had amassed $41 million in small donations, far more than any of that year's Republican presidential candidates. Will any of this year's contenders come close?
2. Who has the most investors?
The number of donors has also become a barometer of grassroots support and enthusiasm.
For example, Republican Ben Carson raised more than $20 million during the third quarter, according to his campaign. As much as the bottom line, Team Carson wanted to brag about the numbers beneath his effort: 350,000 donors giving 600,000 donations. 
Similarly, on the Democratic side, Senator Bernie Sanders of Vermont—who has raised a reported $26 million in third quarter, surprisingly close to the $28 million that Hillary Clinton's campaign says she collected during the same period—says he's attracted support from more than 1 million donors since starting his campaign. 
Despite the undeniable impact of super-PACs on political campaigns, "the extent to which the candidates are able to recruit financial support is still an important barometer," said Tony Corrado, a government professor and campaign finance watcher at Maine's Colby College. "It indicates the extent to which they were garnering support."
3. Who's hot—and not?
Republican candidate Carly Fiorina says she raised $6.8 million in the third quarter, up substantially from the $1.7 million she raised in the second quarter. The number, which appears to put her just ahead of Senator Marco Rubio of Florida, suggests that her much-admired performances in the two Republican presidential debates so far have helped boost more than just her poll numbers. 
On the flip side, Democrat Lincoln Chafee has already acknowledged his financial support will show momentum in near-negative territory. Other candidates, most notably Jeb Bush, will be battling expectations. After raising $11.4 million in just 14 days after his campaign launched in June, a lower number could fuel speculation that Bush is starting to fade under the withering fire of Donald Trump.
"The only thing that matters is who is not doing anything," said Vin Weber, a former Minnesota congressman who's helping raise money for Bush. "That will tell you who will drop out."
4. Who gets the leftovers?
The departure of Perry and Walker leaves money on the table. The two ex-candidates can refund their contributors or give the money to other campaigns. Their Q3 filings could provide the first indication of whether their donors want their money back or will let their former favorites play kingmaker. 
More importantly, their exits set off a scramble for their donors, and the candidates' filings will give the first indication as to whether any of them have been successful.