What Might Have Been
Scott Walker's Campaign Spent Heavily Before Its Collapse
A candidate who bowed out still managed to raise more money in the third quarter than some still in the race.
By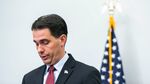 Wisconsin Governor Scott Walker's now-ended Republican presidential bid was spending almost as much as it was raising, according to a disclosure report that reveals how dire the campaign's financial situation was when he abruptly abandoned his White House run on Sept. 21.
Walker, who led in national and early state polls during the spring and early summer prior to the entry of billionaire Donald Trump, raised $7.3 million during the third quarter, more than some candidates who are still in the race. But the committee spent $6.3 million during the period, a Federal Election Commission filing shows. It ended the quarter with $985,213 in the bank.
The filing also shows $161,133 in campaign debt. The Wall Street Journal, citing people familiar with the finances, reported there's actually more than $1 million in debt beyond cash on hand, once expenses pushed into the fourth quarter are accounted for. Tom Evenson, a Walker spokesman, declined to comment on the debt. Compared to virtually all of the others in the race, Walker is a man of modest financial means and he and his wife didn't want to risk going into debt, advisers said at the time of his exit.
"Governor Walker is grateful to the tens of thousands of supporters who believed in his conservative vision and became a part of his effort," his campaign committee said in a statement. "While the outcome is obviously not what we had hoped for, the fact that 92 percent of the contributions Governor Walker received were for $100 or less reflects strong grassroots support."
Walker's effort spent at least $1.1 million on direct mail, $175,304 on telemarketing and data, $150,582 on rent, and $133,776 on fundraising consulting, the record show. Staff expenses were also part of the burn rate. Campaign manager Rick Wiley was paid $58,660 for three months of work, equal to an annual salary of about $235,000. That was slightly more than the pay to Kirsten Kukowski, the campaign's communications director. The governor's FEC filing, the first his campaign has made because of his late formal entry into the race on July 13, also showed that he has sent $20,860 in refunds to contributors. That isn't legally required and often true believers in a candidate who ends a race don't ask for their money back, particularly if that person is someone who might run for office in the future.
Another Republican who ended his campaign in September, former Texas Governor Rick Perry, raised just $287,199 during a quarter when his campaign spent $1.6 million. His report shows he has refunded $64,910 in contributions so far.
Walker's decision to quit followed two lackluster debate appearances, tepid fundraising, and several statements that attracted a flurry of negative headlines. It may have also been hurt by the fact that Walker is essentially a life-long politician in an election season in which Americans are so far embracing outsiders. The FEC filing was the first containing hard numbers that the Walker campaign had to make because of his late formal entry into the race on July 13.