Wal-Mart's Stock Got Crushed and Wall Street Has a Few Things to Say About It
"Far worse than expected."
by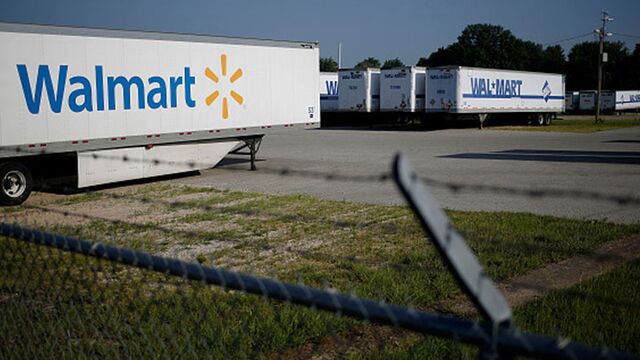 Retail giant Wal-Mart saw its stock fall 10 percent on Wednesday after saying earnings will decrease by 6 percent to 12 percent in the fiscal year ending January 2017. The lower guidance surprised analysts, as they were expecting a gain of 4 percent on average for the period, according to data compiled by Bloomberg.

This brought out a slew of research from analysts covering the stock. Here's your roundup. 
Credit Suisse's Michael Exstein, Charlene Wong, and Anjani Vedula (Downgraded to Neutral from Outperform, Price target to $62 from $85)
We were clearly too optimistic on the company's ability to embrace an aggressive capital allocation strategy. The scenario that we have outlined in the past - of divestitures of underperforming international assets, a potential spin-off of Sam's Club, and reduced levels of overall capital spending that would have yielded significant return of cash to shareholders - has not been fully embraced 
Sterne Agee's Charles From, Renato Basanta, and John Parke (Neutral, Price target $63) 
At today's analyst day at the NYSE, WMT provided a three-year sales/EPS/margin/buyback outlook that was far worse than anyone expected. The specifics are highlighted below, but the key takeaway is that EPS is expected to contract by 6-12 percent in FY16 (implies ~ $4.15 vs. Street at ~$4.75/CRT at $4.50) with roughly FLAT EPS in the subsequent 2 years (FY17/FY18). What's most surprising to us is that the new outlook is incorporating roughly $20.0B in buybacks in the next 2 years, which implies significant margin contraction along with modest sales growth.
Stifel's David Schick, Raymond Stochel, and David Novak (Hold, Price target not given)
While the headlines suggest Wal-Mart's guidance specifics disappointed or Wal-Mart is entering a "reinvestment period" – we think the underlying narrative is far more important. The market is reacting to meaningful evidence that Wal-Mart has substantially over-earned.
Deutsche Bank's Paul Trussell, Tiffany Kanaga, and Gabriella Carbone (Hold, Price target to $61 from $70)
We are not surprised by stock reactions across retail to Wal-Mart announcements. The combination of an improved store experience and lower prices could put a major cloud over the discount/dollar channel. That said, details on the price investment pace and areas of focus were lacking and we do not see a need to alter assumptions for the peer group at this time. Moreover, labor and e-commerce investments are part of the cost of doing business today, in our view, and we believe it will be branding, product, convenience, and experience that ultimately drives market share shifts. Target likely has the most direct overlap (and need to keep up) with Wal-Mart's changes, in our view.
Morgan Stanley's Simeon Gutman and Joshua Siber (Equal Weight, Price target to $60 from $68)
First, greater than expected investments in F'2017 highlight the challenge of moving a big box retail model to be "omni-channel ready." Second, we believe it is going to be difficult for investors to look around the corner towards improvement until the middle of next year. Third, the wide range of EPS (and EBIT dollar) outcomes for [fiscal-year 2017] may signal a contingency for additional investments. Fourth, while the meeting was about repositioning Wal-Mart for the longterm, there was not resounding assurance that low end spending, and consequently Wal-Mart's U.S. comps, continues to improve. Fifth, we believe price investments make the most sense for Wal-Mart's to accentuate its competitive advantage.
CreditSights, James Goldstein and Qaim Wynter (no share price targets as they look at Wal-Mart's debt)
All in all, not a great day for bondholders as - in short - Wal-Mart expects to suffer lower earnings for the next two years, significantly hike its cash spending on share repurchases (while maintaining or growing its dividend), entertain the sale of a piece of its business and/or the purchase of another business, all the while keeping its fingers crossed that organic earnings will be back to current level by the end of calendar 2017.
Goldman Sachs' Matthew Fassler (Neutral, Price target to $58 from $67)
New guidance reflects three underlying factors, in our view: (1) WMT's competitive edge, historically largely assortment and price, has faded relative to purveyors of extreme value (clubs, hard discounters) or extreme convenience (dollar stores, hard discounters), as ecommerce has neutralized the impact of selection. (2) Until recently, the firm has been earning respectable returns well in excess of its cost of capital, as other retailers facing competition (BBY/SPLS from AMZN, UK food retail from hard discount) have absorbed sharp declines in ROC. (3) WMT contends it has seen enough return on its investments in labor to justify investing more money into the US business.
Ouch.
Before it's here, it's on the Bloomberg Terminal.
LEARN MORE