Unilever Sales Beat Analyst Estimates From Ice-Cream Boost
by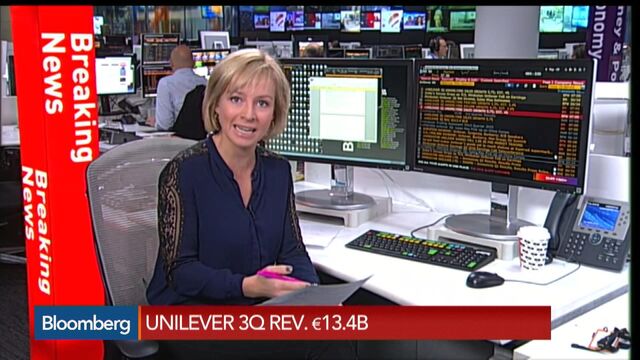 Unilever boosted its full-year sales forecast after reporting third-quarter sales growth that beat estimates on improved results in emerging markets and stronger sales of Magnum and Ben & Jerry's ice cream.
Underlying revenue increased 5.7 percent, London and Rotterdam-based Unilever said Thursday, the best growth in almost three years and well above the 4 percent analyst estimate. It now expects full-year sales "towards the upper end" of a 2 percent to 4 percent range, compared with a previous estimate slightly ahead of the 2.9 percent growth achieved in the first six months. The shares rose as much as 5.1 percent in London.
Chief Executive Officer Paul Polman said consumer demand was "fragile" as currency depreciations in emerging markets push up prices for its shampoos and soups. He's responded by creating new variants of the company's products, such as Ben & Jerry's Cookie Core ice cream and Marc de Champagne-flavored Magnums. He's also adding expensive skincare brands to the company's so-called prestige division to offset the pressure from bargain-hunting European consumers.
"An underlying sense of confidence is starting to emerge" at the company, Jeff Stent, an analyst at Exane BNP Paribas, said in a note. "We'd expect the stock to hold its gains."
Summer Heat
Sales in the unit that includes ice cream rose 8.5 percent, almost triple the growth seen in the second quarter thanks to Europe's record summer heat. Emerging-market revenue -- which comprises 58 percent of Unilever's business -- rose 8.4 percent in the third quarter, up from 6.5 percent in the previous period, fueled by a rebound in China, higher prices for its goods across Latin America, and improvements in Russia.
The price increases in Latin America and a sell-off of excess inventory in China boosted Unilever's results, said Chief Financial Officer Graeme Pitkethly. Without the one-time effects, sales in the quarter would have risen between 3.5 percent and 4 percent, he said on a call with analysts.
"The fourth quarter will be off the steroids and likely to be more in line with consensus," Martin Deboo, an analyst at Jefferies, said in a note.
Unilever rose 4.8 percent to 40 euros at 12:37 p.m. in Amsterdam. Shares of rivals Nestle SA and Danone, who are scheduled to report third-quarter results over the next few days, also increased.
Pitkethly, who took over as finance chief this month, also said the company remains cautious on the economic outlook for countries such as Brazil, South America and Indonesia. Units sold in the quarter rose 4.1 percent, supporting the company's forecast that selling volumes would improve over the course of the year.
Before it's here, it's on the Bloomberg Terminal.
LEARN MORE