business
Trudeau Looking Like Canada's Comeback Kid as Liberals Surge
By
Party moves to first from third on back of economic promises

Analysts question whether Harper's niqab play has backfired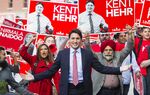 On Canada's Thanksgiving Monday, so many people crowded the main drag in Port Hope, Ontario for a political rally that police parked cruisers at the end of the street and closed it to traffic.
This may be Conservative Party country -- it has won the electoral district containing Port Hope by successively higher margins in each election since Prime Minister Stephen Harper took power in 2006 -- but it was Justin Trudeau who the throngs were coming out to see.
As Canada's 11-week election campaign enters its final days, Trudeau and his Liberal Party are suddenly on the attack, pursuing formerly safe Conservative and New Democratic Party seats. That Trudeau would spend part of the final week in Port Hope, which Harper's candidate won by 33 percentage points in 2011, underlines how radically things have shifted in the run-up to the Oct. 19 vote, with the Liberals running four to seven points ahead of the Conservatives in recent polls.
"This government is out of ideas, this government is out of touch, and the good news is that if we stay focused and work hard for just a few more days, this government will be out of time," Trudeau told the jubilant crowd of about 300 in Port Hope.
It was Trudeau who seemed out of gas when the campaign began. His Liberals were again fading in polls, having reached their historic low of 18.9 percent of the votes and 34 seats in 2011.
Low Expectations
The 43-year-old son of former Prime Minister Pierre Trudeau appeared wounded from a barrage of attack ads saying he wasn't up for the top job. He had no experience leading a party in a campaign and looked like a kid compared to Harper, 56, and NDP Tom Mulcair, 60. Moreover, he found himself squeezed between the Conservatives to the right and the resurgent New Democrats on the left.
Expectations were so low at the first debate that a Conservative spokesman mockingly said Trudeau would exceed them if he simply showed up with his pants on. But Trudeau actually performed well and didn't falter in the subsequent four debates. His policies also stood out, particularly a promise to cut taxes on middle-income earners and raise them on the top 1 percent, and a mid-campaign rejection of balanced budgets in favor of deficit spending to stimulate Canada's weak economy.
Starting from behind, the Liberals pulled even with the other parties in a deadlock before breaking away and, in recent days, taking a narrow lead.
Heightened Interest
Although playing defense, the Conservatives remain within striking distance. Pollster Frank Graves of Ekos Research says the odds now point to a Liberal minority concentrated in urban areas. Interest is high, with voting in advance polls over the Thanksgiving weekend registering a 71 percent spike above 2011.
"People tell us this is a historically important election," Graves said.
Trudeau's father rode a wave of popular support dubbed Trudeaumania to a majority in his first election in 1968. The younger Trudeau seemed invincible upon becoming leader in 2013 before stumbling over revelations he had smoked marijuana and earned hefty speaking fees even after becoming a lawmaker. He also committed a series of gaffes, such as stating admiration for China's efficiency.
All this played to a pre-election onslaught of Conservative attack ads saying Trudeau was "just not ready" to be prime minister.
Early NDP Lead
In the months before the election call, the NDP surged on the back of a surprise election win in oil-rich Alberta, creating another alternative to Harper for the majority of Canadians who said they wanted change. The Liberals tumbled to third, trailing by 10 points or more, but the inner circle didn't panic.
"I don't think we should change the policies at all. I don't think we should change the plan at all. We're clearly not going to change the team," Liberal candidate and businessman Bill Morneau said in an interview during the campaign's first week. "I'm absolutely of the view Justin Trudeau will be seen as someone who has the best vision."
The turnaround began on the campaign's first day, according to Abacus Data's Bruce Anderson, a longtime Canadian pollster, when the NDP leader chose the guarded approach of a frontrunner and refused to take questions from the media.
"Mulcair created some room for Trudeau to draw attention by presenting himself as a contrasting political figure, somebody who wasn't afraid to take questions, somebody who wanted to mix it up with everybody everywhere he went, and didn't seem so focused on measuring the drapes at 24 Sussex," said Anderson, referring to the official residence of Canadian prime ministers.
Turning Points
The Liberals, meanwhile, aired strong ads -- in particular one that pivoted off Harper's "just not ready" attack, with Trudeau responding directly that what he wasn't ready for was "to watch hard-working Canadians lose jobs and fall further behind."
Graves, the Ekos pollster, sees two major turning points: Trudeau's pronouncement he would run three years of deficits, separating himself from his rivals; and Harper's decision to make a major issue out of a court ruling allowing Muslim women to wear a face covering, the niqab, when swearing a citizenship oath. While the issue energized Harper's base, it allowed Trudeau to attack the prime minister for being out of sync with Canada's pluralistic values.
"It's had the ironic impact of shifting the election from one about the economy to one about values, and that seems to have engaged a lot of the moderate majority who weren't particularly engaged in the last election," Graves said.
Winning Votes
On the campaign trail, Trudeau draws large crowds, some won over to his cause and some simply attracted by his celebrity status. Debra Yundt, who attended a rally in Stratford, Ontario this week, said she plans on backing Mulcair's party but came to see Trudeau anyway after seeing his father speak decades earlier. Like many progressives, her main motivation is a desire to see Harper lose -- which could present further opportunity for the Liberals. "Do I vote strategically, or do I vote my heart? That's the thing," Yundt, 62, said.
Back in Port Hope, Kevin Narraway, 53, stood watching the Liberal bus pull out of town while holding a framed poster of Pierre Trudeau that Justin had signed. Narraway, who says he actually wasn't all that big a fan of the elder Trudeau, liked what the son had to say.
"He's talking about hope. He's talking about Canadians working together and ending the divisiveness Harper seems to have brought to the country," Narraway said. "People are voting for change."
Before it's here, it's on the Bloomberg Terminal.
LEARN MORE