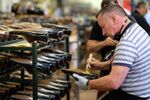 Federal Reserve policy makers say they need to be "reasonably confident" inflation will move back to their 2 percent target before raising interest rates. That confidence took a blow on Wednesday.
 The producer price index fell 0.5 percent in September, the most since January. The usual suspects — energy, gasoline, and food — accounted for much of the decline. More troubling was the 0.3 percent drop in PPI excluding the volatile categories of food, energy and trade services. Morgan Stanley economist Ted Wieseman called it a "disturbing breakdown" in a note to clients, adding that it was the largest drop in the gauge's two-year history.
U.S. central bankers have kept the benchmark rate at zero since 2008 and are betting that lower rates of unemployment and a steady pace of household spending will firm up prices. That's proving to be a bit of a gamble.
The personal consumption expenditures price index, the Fed's preferred gauge, has missed its target for more than 3 years. It rose 0.3 percent in the 12 months through August. The core rate, or prices minus food and energy, decelerated to a 1.5 percent three-month annualized pace versus 1.7 percent in July.

The PPI report may chip away at the Fed's inflation confidence because prices paid to health care and financial-service providers were weak in September.
 Wieseman estimates this foreshadows a "a zero reading for PCE healthcare services inflation -- which makes up 19 percent of core PCE inflation" when the Commerce Department releases its report for September on Oct. 30. PCE financial services price measures which "make up about another 9 percent of the core could be down 0.1 percent in September," he said, based on the soft PPI report.

Central bankers are pretty close to their goal of full employment, which they estimated last month would be consistent with an unemployment rate of 4.9 percent. The jobless rate stood at 5.1 percent in September. However, they aren't anywhere near their inflation target. If concerns about inflation remaining too low stayed their hand in September amid slowing growth abroad, it may continue to do so in the weeks ahead.
Before it's here, it's on the Bloomberg Terminal.
LEARN MORE