Tetangco's Warning Shots Make Philippine Peso Region's Steadiest
by and
Currency has lowest implied volatility in Asia after the yuan

Central bank uses moral suasion to influence market behavior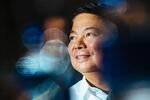 "Temper your animal spirits."
That was the message from Philippine central bank Governor Amando Tetangco to a room full of foreign-exchange traders at a Bloomberg forum in Manila last month. The advice, and the unspoken threats that underpinned it, are an example of how the man in charge of the monetary authority for a decade uses soft power to contain swings in the peso and give local businesses more confidence in exchange rates than their Asian peers.
"If the banks see the hand of the central bank, they'll think twice going against it," said Joey Cuyegkeng, an economist at ING Groep NV in Manila. "In certain cases, moral suasion is very effective and in certain instances, direct intervention is more effective. It's all part of the tools."
Tetangco has been Southeast Asia's most successful proponent of spoken intervention, sparing precious currency reserves as the Philippine currency's one-month implied volatility, a gauge of expected fluctuations used to price options, held at a regional low of 5.29 percent. That compares with 18.62 percent for Malaysia's ringgit and 15.92 percent for Indonesia's rupiah. Philippine reserves have increased in the past year, while Malaysian and Indonesian stockpiles have slumped, and the nation's economy is forecast to grow faster than its Southeast Asian peers in 2015.
"The peso's relative stability is one of the Philippines' main selling points," said Wee-Ming Ting, the Singapore-based head of Asian fixed income at Pictet Asset Management Ltd. The volatility "is much less compared with some of the currencies in the region. That's viewed positively by investors," he said.
'Quite Successful'
Moral suasion is the influence which the central bank exercises to induce or convince banks to conduct operations in a manner that would contribute to the attainment of monetary goals, Bangko Sentral ng Pilipinas says on its website. Sometimes it doesn't necessarily support the lenders' objectives of maximizing profits, it says.

"Because the banks know that the BSP is available for consultation, we have been quite successful in containing volatility," Tetangco said in e-mailed response to questions. "The banks are also aware that we monitor market conduct closely and that we would not hesitate to exercise supervisory action if we believe there is unusual market activity."
It's not uncommon to get phone calls from top central bank officials and be queried on the reasons for buying dollars, said a president of one of the Philippines' commercial banks who didn't want to be named as he said the issue is sensitive.
Access to data is always a crucial component of policy making, Governor Tetangco said in response to the comment on the phone calls.
The peso has been shielded from much of the market turmoil this year due to the Philippines' relative lack of dependence on commodity exports and comparatively low levels of foreign investment in its stocks and bonds. Money sent home by Filipinos working overseas and a burgeoning business-process outsourcing industry have buoyed expansion. The Philippine economy is forecast to grow 5.9 percent this year, according to a Bloomberg survey, compared with 4.9 percent in Malaysia, 4.8 percent in Indonesia and 2.7 percent in Thailand.
Stable Currency
As the rupiah and the ringgit plunged last quarter and then rebounded sharply this month, the peso's movement has been more muted. The Philippine currency declined 3.5 percent in the three months through September, compared with a 9 percent drop in the rupiah, and has risen 1.7 percent so far in October as the ringgit rallied 5.8 percent.
While the peso has been supported by the Philippines' relatively strong economic fundamentals, the currency would be more volatile without the central bank's use of moral suasion, said Patrick Ella, an economist at Security Bank Corp. in Manila.
"In times of stress definitely the central bank will not only deploy moral suasion but other tools as well," he said, referring to intervention in the foreign-exchange market. "In stressful periods they will increase the tools available as well as the intensity."
Bangko Sentral incurred a net loss of 3.55 billion pesos in the first seven months of the year, compared with 3.17 billion pesos in the same period of 2014, according to central bank figures. Foreign investors pumped $1.1 billion into the nation's stock market in the first quarter, the most since 2012, exchange data show.
"In response to the heavy capital inflows, the BSP has been implementing various stabilization measures to moderate sharp currency movements," it said in a statement earlier this year. "However, stability comes at a price. The BSP has been incurring heavy financial losses in its efforts to temper currency fluctuations which could be destabilizing."
Forex Reserves
The Philippines has been able to maintain its foreign-exchange reserves though, with its stockpile increasing 0.9 percent in the 12 months through September. Indonesian reserves have fallen 8.5 percent over the same period, while Malaysia's are down 27 percent. Bangko Sentral has also managed to keep inflation to just 0.4 percent in September, compared with 6.83 percent in Indonesia and 3.1 percent in Malaysia in August.
Keeping the peso stable is part of the central bank's mandate, according to Jonathan Ravelas, chief market strategist at BDO Unibank Inc. in Manila.
"The central bank is there to bring order and stability," he said. "The market shouldn't be just a one-way street. Sometimes the market exaggerates."
Before it's here, it's on the Bloomberg Terminal.
LEARN MORE