Sturgeon Won't Rule Out New Referendum If Scots Change Minds
by
New vote on independence would be triggered by shift in polls

U.K. voting to leave EU would lead to new Scots plebiscite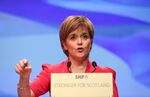 Scotland's First Minister Nicola Sturgeon said she will demand a new referendum on independence if there's "strong evidence" that voters have changed their minds since rejecting a break from the U.K. last year.
QuickTake Scotland's Independence
Sturgeon, addressing her Scottish National Party's conference in Aberdeen on Thursday, also said a vote by the U.K. as a whole to leave the European Union in the referendum Prime Minister David Cameron has promised to hold by the end of 2017 would be likely to trigger a new Scottish plebiscite.
"To propose another referendum in the next Parliament without strong evidence that a significant number of those who voted 'no' have changed their minds would be wrong and we won't do it," Sturgeon said. "But, over the next few years, as the Tories impose even deeper cuts, press ahead with Trident renewal and fail to honor in full the vow of more powers for our Parliament, I think support for independence will continue to rise."
Scotland voted by 55 percent to 45 percent to stay in the U.K. in a referendum in September last year and polls since have suggested an increase in the number of people favoring a break from the union. Sturgeon's requirements would be met if polling consistently showed increased support for independence, her spokesman, Stuart Nicolson, told reporters after the speech.
Poll Findings
A survey for Ipsos Mori published last month found 53 percent saying they would vote in favor of independence and 44 percent against if another referendum was held. Polling of 1,002 voters was carried out between Aug. 24 and Aug. 30. A YouGov Plc poll published Thursday found 52 percent against independence and 48 percent in favor. That survey of 1.026 voters was conducted Oct. 9-13.
Sturgeon, who will campaign "very strongly" for the U.K. to remain in the EU, said Cameron had told Scots to vote 'no' in order to stay in the EU and it would be a breach of that promise if Britain. decides to leave.
'Democratic Wishes'
"If you try to take Scotland out of the EU against our democratic wishes, you will be breaching the terms of last year's vote," she said in remarks addressed to the prime minister. "In those circumstances, you may well find that the demand for a second independence referendum is unstoppable."
Sturgeon also appealed for voters opposed to breaking away from the U.K. to back her party in elections to the Scottish Parliament next May and announced plans to build 50,000 new affordable homes in an attempt to tackle the country's housing crisis.
"For those who want Scotland to be independent, there is only one vote next year that makes sense, and that is a vote for the SNP," she said. "But I don't just want to win the votes of independence supporters, I want to inspire people who voted 'No' last year to vote SNP too. I want them to vote SNP because they know we are the best party, with the best ideas and the best people to lead Scotland forward."
Scottish Parliament
The SNP, which opposes Britain's Scottish-based Trident nuclear weapons, is seeking to build on its success in May's U.K. general election, when it won 56 of the 59 Scottish House of Commons seats, by taking greater control of the Scottish Parliament in Edinburgh. The party has half of the legislature's 128 lawmakers and Sturgeon is aiming to increase that number, especially given the collapse in support for the Labour Party, which won the second largest number of seats in the 2011 Scottish election.
A TNS poll published this month showed support for the SNP at 56 percent for the Scottish Parliament elections, with Labour at 21 percent. The Conservatives were at 12 percent and the Liberal Democrats 6 percent, according to the poll of 1,037 voters interviewed between Sept. 9 and Sept. 30. YouGov's latest survey put the SNP at 51 percent, with Labour again at 21 percent. Margins of errors for the polls weren't specified.
"In the general election in 2010, fewer than half a million people voted SNP. In the Scottish election a year later, our support grew to just over 900,000 votes," Sturgeon said. "And in the general election this year, almost 1.5 million people chose our party. That's almost 1 million more people, in just five years and across all parts of our country, persuaded to put their trust in the SNP to lead Scotland forward."
Police Probe
In spite of the triumphalism, not everything is going Sturgeon's way. House of Commons lawmaker Michelle Thomson, who was also the SNP's business spokeswoman, was suspended by the party last month after police started an investigation into her property dealings.
And the opposition parties in Scotland have stepped up their criticism of the SNP's time in office, and particularly its record on education, health and policing.
"It is time for the SNP government to be judged on their record of running our schools and hospitals; the truth is that in our schools the gap between the richest and the rest is growing, and our hospitals are struggling," Labour's spokesman on Scotland in the House of Commons, Ian Murray, said in an e-mailed statement. "The SNP have been in government for eight years now, they are starting to look like the establishment in Scotland, an establishment that is running out of ideas."
Before it's here, it's on the Bloomberg Terminal.
LEARN MORE