SeaWorld to Sue California Regulators Over Orca Breeding Ban
by
Commission defends move, saying captivity harms killer whales

`Company now has about 40 years to phase out public display'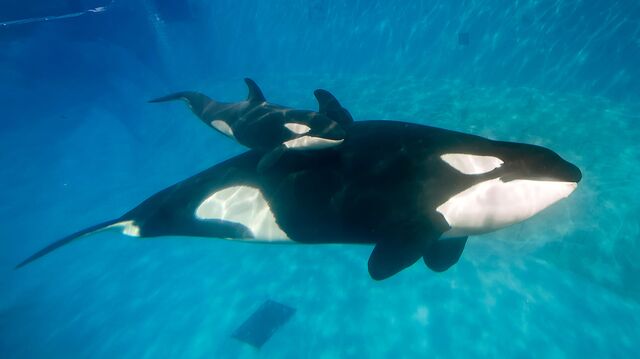 SeaWorld Entertainment Inc. said it plans to sue the California Coastal Commission after the panel imposed a ban on whale breeding at the company's San Diego theme park.
"As a regulatory board charged with managing coastal development and related land-use decisions, the Coastal Commission went way beyond its jurisdiction and authority when it banned breeding by killer whales at SeaWorld," Chief Executive Officer Joel Manby said in a statement Thursday.
The Orlando, Florida-based theme-park operator has come under fire from animal-rights activists who say that the company shouldn't keep killer whales in captivity. SeaWorld said last year it planned to enlarge its orca tanks in California, Texas and Florida.
Last week, the Coastal Commission approved the planned $100 million San Diego project while including a ban on breeding the animals.
The commission's 11-1 vote to ban whale breeding is grounded in state law and is not preempted by any federal statues, Danya Bochco, vice chair of the commission, said in an opinion piece in the San Diego Union-Tribune Thursday.
Testimony before the commission made a compelling case that confining orcas in tanks makes them more aggressive and can lead to their harm, she wrote.
"If SeaWorld's longevity projections are correct, the company now has about 40 years to phase out public display with its current whale collection, and plan for a Shamu-free future," Bochco said.
Before it's here, it's on the Bloomberg Terminal.
LEARN MORE