Repsol Targets $7.1 Billion of Asset Sales in New Strategic Plan
by
Company to cut investments by up to 38% over next five years

Oil producer seeks to maintain dividend, generate cash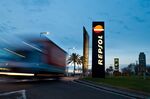 Repsol SA plans to sell 6.2 billion euros ($7.1 billion) of assets and cut investments by as much as 38 percent over the next five years to help it preserve dividends.
Assets sales will bolster earnings before interest, taxes, depreciation and amortization, which are forecast to increase by 46 percent to 7.9 billion euros over the five-year period, Madrid-based Repsol said Thursday in a regulatory filing. While the company's strategic plan uses a break-even oil price of $50 per barrel under a stress scenario, Repsol's base outlook sees benchmark Brent crude rebounding to $91.80 by 2020.
The plan seeks to reassure investors that Repsol can cut debt while generating enough cash to maintain its dividend, which has the second-highest yield among major European oil producers. Repsol is the worst performing integrated oil company in the Stoxx Europe 600 Oil & Gas index this year amid concern over its $13 billion acquisition of Talisman Energy Inc. in May.
Repsol shares rose as much as 3.8 percent in Madrid trading and were 2.2 percent higher at 12.43 euros as of 9:22 a.m. local time. That pared this year's decline to 20 percent.
Repsol plans to reduce capital expenditure in its exploration and production division by 40 percent by 2020, according to the presentation. Repsol announced more than $1 billion in asset sales over the past month and part of that will go toward meeting the target in its strategic plan.
Repsol's dividend yield -- the annual return divided by the share price -- reached 5.7 percent in 2014, second only to Eni SpA's among 10 European oil companies, according to Barclays Plc, which forecasts an increase to 6.2 percent this year and next.
Before it's here, it's on the Bloomberg Terminal.
LEARN MORE