Putin Derides `Weak' U.S. Policy as Diplomats Discuss Syria
By and
Kerry counters that Russia props up Assad's `murderous' regime

Russia says its jets bombed Islamic State 32 times in past day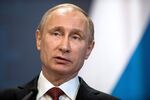 Russian President Vladimir Putin once again derided American policy on Syria as weak and lacking objectives, as his air force continued bombing raids to support Bashar al-Assad's government.
"I don't really understand how the U.S. can criticize Russia's actions in Syria if they refuse to have direct dialogue," Putin told reporters Thursday during a visit to Astana, Kazakhstan. "The basic weakness of the American position is that they don't have an agenda, though we're keeping the door open" for high-level discussions, he said.
Amid growing friction over the Russian military intervention that began Sept. 30, U.S. Secretary of State John Kerry countered that Russia must make "good on its commitment, repeated many times, to help" the U.S.-led, 65-member coalition fighting to defeat Islamic State terrorists.
"The point we have made to the Russians, however, is that it would be totally self-defeating to the point of farce to try at the same time to prop up Bashar al-Assad and his murderous regime, which seems to be precisely what Moscow wants to do," Kerry said Thursday in a speech at Indiana University's School of Global and International Studies in Bloomington, Indiana.
Kerry-Lavrov Call
Kerry and Russian Foreign Minister Sergei Lavrov discussed Syria by phone on Thursday and expressed satisfaction on the progress of military talks to improve "security in the Syrian airspace in the context of anti-terrorist actions," the Foreign Ministry in Moscow said in a statement on its website. The U.S. has emphasized that the "technical" talks are limited to reducing the risk of a conflict between their aircraft in the skies over Syria.
Russian warplanes flew 33 sorties and made 32 airstrikes in the past 24 hours against Islamic State positions in Syria's Idlib, Hama, Aleppo and Deir ez-Zor provinces, Interfax news service reported, citing Defense Ministry spokesman Igor Konashenkov.
Russian and Israeli military pilots also began joint training to "prevent dangerous incidents in the sky," while a hotline's been set up to exchange information between Russia's Syrian airbase and the Israeli air force, Konashenkov said, according to Interfax.
'Regain Control'
Russian airstrikes and the Iranian-backed Hezbollah militia are aiding government offensives against rebel groups near the western cities of Homs and Aleppo, according to the U.K.-based Syrian Observatory for Human Rights. Assad's troops have also made major advances in Hama and Latakia, Rami Abdurrahman, the group's head, said by phone on Thursday.
"It looks like they are seeking to regain control of the road linking Damascus to Homs and then Aleppo," said Abdurrahman, whose organization tracks the war through a network of activists. Islamic State has taken territory near Aleppo in recent days and repelled government attacks in areas it already holds, he said.
In a sign of the risks involved as Russia and the U.S.-led coalition conduct separate campaigns of airstrikes over Syria, a Russian Su-30 fighter jet flew within about 2 kilometers (1.2 miles) to 3 kilometers of a U.S. warplane on Oct. 10 during a mission in Aleppo Province, according to a statement by the Defense Ministry in Moscow on Wednesday. The intention was to identify the plane and "not scare anyone," the ministry said.
U.S. Defense Secretary Ashton Carter said Wednesday that the U.S. has seen "increasingly unprofessional behavior from Russian forces," including violations of Turkey's airspace.
Russia and Turkey, a NATO member, are establishing "lines of communication between our militaries in connection with events taking place in Syria" amid tensions over violations of Turkish airspace, Russian Deputy Foreign Minister Aleksey Meshkov told a conference in Moscow on Thursday, Interfax reported.
A Russian military delegation headed by deputy air force chief General Sergei Dronov visited Ankara to explain the Oct. 3-4 airspace violations and measures being taken to prevent a repetition, the Turkish chief of staff headquarters said in a website statement.