Polish Anti-Migrant Party Sets Sight on Parliament Majority
by and
Two surveys show party with majority after Oct. 25 election

Party leader Kaczynski says migrants carry parasites, disease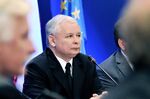 Poland's opposition Law & Justice party, which favors a tougher stance against migrants flowing into Europe, will win a parliamentary majority in the Oct. 25 general election, according to two new opinion polls.
The surveys, published on Thursday, indicate Law & Justice, also an advocate of more government control over the economy, will win between 235 and 239 seats in the nation's 460-member lower house of parliament. Party leader Jaroslaw Kaczynski said the same day he's aiming to gain full control of the legislature, which would allow him to push through policies to lower the retirement age, raise social spending and transform Poland's economy into one based on "higher wages and innovation."
Poland's election could be a watershed in what's become a momentous year for European politics, as voters decide whether to continue along a path charted in Brussels and Berlin or take a different tack. In parts of southern Europe, the focus has been on sacrificing economic sovereignty to stay in the euro. In some countries in the former communist east, it's about reasserting control over national identity, borders and finances -- all major campaign themes for Law & Justice.
"Kaczynski has been able to activate more traditional voters, and his triumph is almost certain," Anna Materska-Sosnowska, a political scientist at Warsaw University, said on Thursday. "Even if they don't win a majority, they will be only a few votes short, which will allow them to form a government without much difficulty."
Parasites, Cholera
Kaczynski opposes allowing migrants into Poland, and is instead offering to provide humanitarian aid abroad. A former prime minister, he warned Poles this week that migrants may be carrying illnesses that might hurt the country.
"We've already seen the emergence of dangerous illnesses long absent in Europe; cholera on the Greek isles, dysentery in Vienna, various types of parasites inside these people," Kaczynski told reporters on Monday. "Such things may be harmful here."
His stance contrasts with that of the government, which says Poland must take part in German-led efforts to redistribute migrants fleeing from the Middle East and North Africa among the EU's 28 members. Prime Minister Ewa Kopacz agreed to take in about 12,000, but the number may rise as more refugees enter the bloc. The tougher rhetoric on migrants by Law & Justice appears to be winning over Poles after surveys only last week showed the opposition party falling short of a majority in the next parliament.
Foreign Minister Grzegorz Schetyna hardened the government's stance on refugees in an interview with RMF FM radio on Friday, calling German Chancellor Angela Merkel's plan to divide up future waves of migrants between EU nations "absurd" with potentially "catastrophic consequences for Europe."
Poland is undergoing a political shift after the Civic Platform's eight-year rule, during which the country's $548 billion economy was the only one in the EU to avoid recession. Voters, concerned about job prospects and lured by spending promises, elected Law & Justice's Andrzej Duda as president in May, spooking financial markets.
Bond Performance
Law & Justice's economic policies may again inflate the country's budget deficit, which this year is set to drop below 3 percent of gross domestic product for the first time since 2007. Such risks are making Polish bonds underperform regional peers, with the nation's local-currency debt returning 1.1 percent since Aug. 30, compared with 1.4 percent for Hungary and 1.8 percent the Czech Republic, according to Bloomberg indexes.
The Estymator survey for Poland's edition of Newsweek has Law & Justice gaining 40 percent of vote and 235 seats in parliament, while the ruling Civic Platform, backed by 24 percent, will gain 133 seats. The TNS Polska poll for daily Fakt has Law & Justice at 38.9 percent with 239 seats, and Civic Platform at 30.1 percent with 182 seats. The number of seats alloted in parliament depends not only on the outcome of a specific party, but also on how many other groups clear the threshold to secure representation.
Another survey, this one by IBRiS polling company, showed Law & Justice with 218 seats and 35.3 percent support, compared with 134 seats and 22.9 percent for Civic Platform, Radio Zet said on Friday.
No single party has commanded a legislative majority since the re-introduction of Polish democracy 26 years ago, which has led to coalition governments and periods of minority rule.
Before it's here, it's on the Bloomberg Terminal.
LEARN MORE