NBC's Web Comedy Service to Feature Amy Poehler, Monty Python
by
Ad-free subscription video service will cost $3.99 per month

NBC joins HBO, CBS, Viacom with Web-only subscription service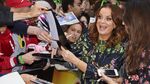 NBCUniversal will introduce its first Web-only subscription video service, a comedy-focused offering featuring stars such as Amy Poehler and the British comedy troupe Monty Python that seeks to reach younger viewers who don't subscribe to traditional television.
The service, which will be available starting in January, will be called "Seeso" and cost $3.99 a month, the entertainment division of Comcast Corp. announced Thursday at an event in New York. It will include stand-up comedy, original scripted series, live events, and NBC fare like "Saturday Night Live," and "The Tonight Show Starring Jimmy Fallon."
With more viewers canceling pay-TV subscriptions and watching shows online, conventional programmers like NBC are developing new outlets to reach audiences, especially young adults. NBCUniversal, which operates the flagship broadcast network and cable channels including USA and Bravo, joins CBS Corp., Viacom Inc. and Time Warner Inc.'s HBO in creating an online-only subscription services.
"We're creating a service for the next generation of users made by people who are of that generation," said Evan Shapiro, who was hired in December to spearhead NBCUniversal's efforts to distribute its programming outside the cable-TV bundle.
The network decided to create a streaming service focused on comedy because of its popularity among millennial audiences, Shapiro said in an interview. It's "the most popular genre out there by a long stretch."
The service will show more than 20 original comedies in the first year, he said, without revealing any programming costs. It will include improv and sketch comedy from well-know comics like Wyatt Cenac and members of "Upright Citizens Brigade." The Monty Python offering will include the U.K. comedy group's original series, remastered in high definition, along with vintage films, documentaries and specials.
By creating a Web-only service outside the cable-TV bundle, NBC "decided to not just protect the ecosystem but to grow it by creating a brand new channel for a lifestyle that is clearly part of the mainstream now," Shapiro said.
Before it's here, it's on the Bloomberg Terminal.
LEARN MORE