Metacapital's Narula Says More Hedge Funds to Close This Year
by
Narula says hedge funds are too large, lack good trading ideas

The mortgage manager sees value in commercial mortgages, REITS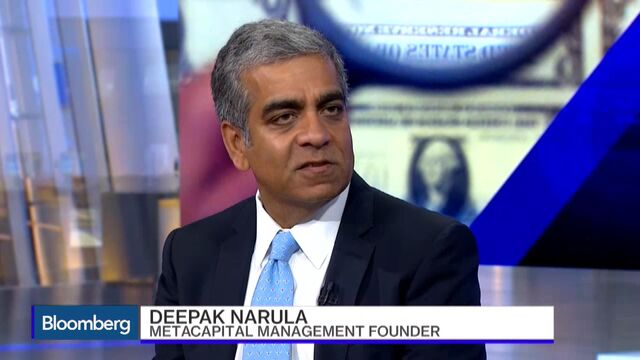 Deepak Narula, the founder of Metacapital Management, expects to see more hedge funds close this year, citing too much money under management and not enough good ideas.
"When you have the hedge-fund industry grow the way it has grown, and the size of money that managers manage, it is tough to come up with ideas that are alpha-generating," he said on "Bloomberg <GO>" with Stephanie Ruhle and David Westin. "You end up seeing a lot of packaged beta."
Already in 2015, hedge funds managing more than $16 billion have announced shutdowns, including macro funds run by Fortress Investment Group LLC and Bain Capital. The closures have come as funds in the $2.9 trillion industry have posted an average return of 0.7 percent in the first nine months of this year, according to data compiled by Bloomberg. That compares with a drop of 6.6 percent for global stocks.
Narula's Metacapital Mortgage Opportunities Fund lost 1.7 percent in September, and is down 0.36 percent in the first nine months of 2015, according to a report sent to clients.
Narula said he sees opportunities in commercial mortgage-backed securities. They have fallen in tandem with high-yield bonds even though the commercial real estate market is healthy. He also said he likes mortgage real estate investment trusts, which are trading at a large discount to their book values.
"We think that's one of the better opportunities out there," he said.
Before it's here, it's on the Bloomberg Terminal.
LEARN MORE