Mapping America's Disgusting Waterways
An Oregon nonprofit works with Google to index trouble spots.
By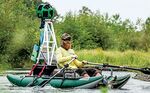 Northern California's Russian River tends to be a pretty sedate blur of sandy beaches and redwood groves, so when Joe Whitworth and his team row a camera-studded green orb down a 60-mile stretch one morning, they catch some long stares. "You with the government?" asks one swimmer. Another points at the eye of the Google Trekker, essentially a raftborne version of the search giant's Street View cars, and asks, "What's your crystal ball for?" Whitworth's modest answer: saving the U.S. water supply.
Whitworth is president of the Freshwater Trust, a 45-employee Portland (Ore.) nonprofit taking on the unenviable task of fixing America's broken watershed. The U.S. Environmental Protection Agency classifies 79 percent of freshwater lakes, rivers, and streams as threatened or imperiled because of pollution, excess quantities of nitrogen or phosphorus, or water that's warming too much for fish. The Freshwater Trust has joined with Google to take the first step toward a solution, using its advanced cameras to more quickly survey waterways.
While that may sound like a baby step, it's an important one. Watershed surveys typically take months or years of scientific fieldwork, if cash-strapped federal agencies do them at all. Solid data on rivers' levels of pollution or nitrogen are scarce. When the government or nonprofits try to figure out how to improve fish habitats or reduce runoff, "it's like trying to drive without a speedometer, GPS, or even a gas gauge," Whitworth says.
Like Google's car-mounted cameras, the Trekker snaps 15 photos every 2.5 seconds, and the Freshwater Trust team uploads the shots from its so-called BasinScout to Google Maps. Besides offering laypeople a virtual river tour, the images help scientists assess the quality of the area's fish habitat. Pictures from Whitworth's day on the Russian River are a little grim. Some riverbanks are being held up by stacks of crushed cars from the 1970s. Others are anchored by 20-foot, nonnative grasses called arundo, which provide less shade for fish and wildlife than native cottonwoods.

Whitworth's raft also tows instruments that measure water temperature, levels of phosphorous, and oxygenation. His team feeds that data into software with information from climate records, county land rights filings, and soil tests by the U.S. Geological Survey. The Freshwater Trust's model can help pinpoint which farms most need government help to install a more efficient irrigation system, or which areas need more wetlands restoration to protect them. "The Freshwater Trust has developed a way to do that quickly and inexpensively," says Matt Elliott, principal at consulting firm California Environmental Associates.
The nonprofit is relying on Google for help crunching the data, as well as for the loaner camera equipment. "They are the content experts," says Karin Tuxen-Bettman, a geo data strategist at Google. "We can lend them the tools." Most of the 200-odd nonprofits that use her team's hardware only photograph threatened landscapes, she says.
Long a regional organization focused on protecting Oregon's salmon and steelhead trout, the Freshwater Trust has spent much of the past decade trying to better quantify waterway damage throughout the U.S. Whitworth is pitching the federal government on a system of offset credits for water pollution akin to the carbon offsets traded among utility companies and other industrial polluters. Peter Gleick, president of the Pacific Institute, a California-based water policy think tank, calls such trades "win-win," because it's cheaper for many companies to buy offset credits than to curb pollution.
Others argue that such a system lets polluters off the hook. Nina Bell, executive director of Northwest Environmental Advocates, says such offset deals entail too much guesswork by politicians instead of scientific analysis. And the scale of America's watershed problems can be staggering. Wild Pacific salmon populations hover below 10 percent of their historical levels. Excess water use in California has drawn salt water 12 miles inland in the farming hub of Salinas Valley. Each spring, nutrient runoff produces an oxygen-depleted "dead zone" the size of Connecticut in the Gulf of Mexico.
Whitworth says those issues are challenging but solvable. First, he says, he's trying to raise at least $25 million to finance his nationwide waterway index. The Freshwater Trust plans to charge companies and municipalities for some of the data to finance the map's completion but will ultimately make the data free to everyone, Whitworth says. "Eventually, we'll be able to monitor the condition of our rivers in real time. That will help us make better decisions."
The bottom line: The Freshwater Trust says it needs at least $25 million to finish mapping the nation's waterways, a first step to fixing them.
Before it's here, it's on the Bloomberg Terminal.
LEARN MORE