London Mayor to Cities Resisting Uber: Toothpaste Out of Tube
by
Johnson sees need to ensure level playing field for taxis

London has proposed curbs on Uber's expansion in the U.K.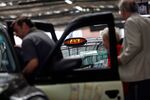 London Mayor Boris Johnson has a message for cities resisting Uber Technologies Inc.'s ride-hailing service: disruption is inevitable and the best you can do is manage it.
"Once the toothpaste is out of the tube, that's it," Johnson said in Tokyo Thursday at a U.K. embassy event promoting startups. "We have to strike a balance."
Smartphone-based services such as Uber have faced opposition in several countries from government officials and the taxi industry, whose drivers often pay steep fees for licenses and permits. San Francisco-based Uber has had cars seized in Jakarta, offices raided in Amsterdam and some services banned in France, Germany and Belgium.
"We licensed Uber a while ago in the knowledge that it will prove very difficult for the established black cab trade," Johnson said. "We have to make sure that we do what we can to give the black cab trade a level playing field."
The comments come as Uber faces curbs in London under regulations proposed by the city's transportation authority. Drivers may face English-language and navigational tests, stricter insurance requirements and limits on bookings. Uber has said the proposals include a mandatory five-minute wait time even if a car is around the corner, with the app no longer displaying the locations of the nearest vehicles.
China and India this month proposed guidelines for ride-booking services and asked operators to obtain licenses from local authorities.
Despite the opposition, Uber has attracted investments from Microsoft Corp., Google Inc. and Amazon.com Inc.'s founder Jeff Bezos, valuing the company at $50 billion. It's now expanding into the home-delivery business and developing self-driving cabs.
"The punters want to use the Uber app, which is cheap and very, very convenient," Johnson said.
Before it's here, it's on the Bloomberg Terminal.
LEARN MORE