Kasich Vows to Cut Taxes and Balance Federal Budget in Eight Years
Mark Niquette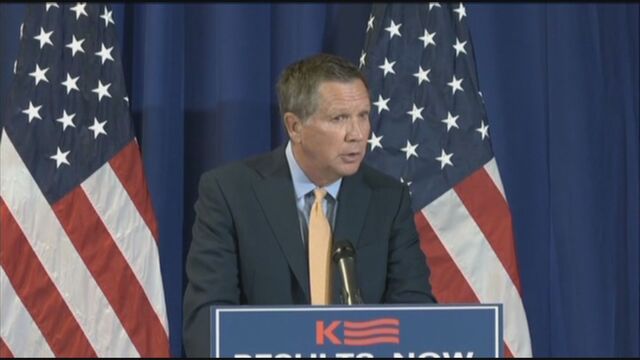 Republican presidential candidate John Kasich wants to cut taxes, including lowering the top individual rate to 28 percent and the corporate to 25 percent, as part of his plan to balance the federal budget within eight years.
The Ohio governor, trying to outpace a crowded field, said he would offer the proposals to Congress within his first 100 days. The plan would shift authority and funding to states and create an environment for growth and job-creation, Kasich said. He said his ideas would increase revenue by almost 50 percent in nine years.
"We need to take control of our future, and we need to do it right now," Kasich said in a 35-minute speech Thursday at Nashua Community College in New Hampshire. "This is doable and achievable."
Kasich, who stood next to a rolling national debt clock, said increased revenue and a freeze on nondiscretionary spending would let him boost military spending 17 percent even as he balanced the budget.
Kasich, who was chairman of the House Budget Committee at the end of the 1990s when the budget was last balanced, would reduce tax brackets from seven to three and cut the top rate from 39.6 percent. He would increase the earned income-tax credit, which helps those with low and moderate incomes, by 10 percent.
'Simply Unserious'
The long-term capital-gains rate would fall to 15 percent, the inheritance tax would end and deductions for charitable donations and mortgage interest would continue, Kasich said. He told reporters after the speech that his plan wouldn't affect the "carried interest" provision that benefits financiers.
The governor proposes reducing the top corporate levy from 35 percent and establishing a "low tax rate" to repatriate an estimated $2 trillion in profits held overseas. He would create a "territorial" system that taxes only U.S.-produced income to boost wages and economic growth.
Democrats dismissed Kasich's plan as catering to the wealthy that would "either explode the deficit or destroy the economy."
"Kasich's 'plan' is simply unserious," TJ Helmstetter, a spokesman for the Democratic National Committee, said in a release. "It would not balance the budget, but it would choke off critical programs that people depend on and cripple the federal government's ability to function."
Thursday's tax-cut proposal was only the latest by a Republican candidate.
Jeb Bush has proposed three brackets with rates of 10 percent, 25 percent and 28 percent, according to the Tax Foundation in Washington. Donald Trump wants four brackets with rates of 0, 10 percent, 20 percent and 25 percent, the group said.
Kasich is calling for shifting responsibility and funding to state and local governments for transportation, education, job training and Medicaid, the joint federal-state health-care program for the poor
The governor also would impose restrictions on federal regulations, including a one-year moratorium on major new rules, revisit trade deals and boost energy production.
In a Republican race dominated by Trump and retired neurosurgeon Ben Carson, who have no government experience, Kasich has run on his 18 years in Congress and two terms as governor. He says he's willing to buck the status quo and has the experience and vision to effect change in Washington.
"Right now, experience is not something people are excited about, but it's something we need," Kasich said Wednesday night at a house party in Center Tuftonboro, New Hampshire. "If you're going to fix that town, you have to go there knowing what you're going to do."