Campaign Cash
Jeb Bush Raises $13.4 Million in Third Quarter
The son and brother of former presidents is battling high expectations.
By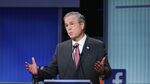 Republican presidential candidate Jeb Bush raised $13.4 million in the third quarter of 2015, more than most of his rivals yet not nearly enough to ease concerns that the son and brother of former presidents is struggling to gain traction in the race.
As of Oct. 1, Bush's campaign had $10.3 million in the bank, less than other Republican hopefuls U.S. Senator Ted Cruz, retired neurosurgeon Ben Carson and U.S. Senator Marco Rubio. His fundraising for the three-month period was just $2 million more than what he raised in the last two weeks of June.
Still, Bush's haul trails only the $20 million raised by Carson, according to what campaigns have announced so far. And, it's almost double what 12 other Republican candidates in the race collected during the same time. 
"It's not a spectacular number, but it's still good relative to the other campaigns," said Barry Wynn, a former South Carolina Republican Party chairman, who is a co-chairman of Bush's campaign in the state. "It's my understanding there will be a bigger emphasis on fundraising this next quarter." 
The Bush campaign does face a different set of expectations than his rivals. Bush hasn't raised money for a campaign since his 2002 re-election bid for governor, but he has access to a nationwide fundraising network that his family has built over generations. Bush also has made deep inroads in Florida's donor community, typically a significant source of campaign cash for Republicans and where he played a major role in the party's resurrection in the mid-1990s.
Bush's campaign released a list of 341 men and women he said raised at least $17,600 for the primary race. Unlike previous presidential candidates, including Bush's brother, George W. Bush, the Jeb Bush campaign didn't offer any more detail. The campaign does have an internal program that rewards the biggest fundraisers. Known as "Mission 2016: JEB!," it divides donors into four space-themed categories: "Apollo" for donors who raise $75,000, "Endeavor" for those who bring in $150,000, "Commander" for $175,000, and "Voyager" for $250,000. 
Bush campaign manager Danny Diaz pointed out that Bush raised almost as much as Mitt Romney did in the same period in the 2012 electoral cycle even though Romney had "a much smaller field of competitors." 
The campaign has 38 paid staffers in four early states, he said. It's targeting voters with a database of 260 million individuals and 3,000 data points and is planning to be on primary ballots in every state.
"Voters in Iowa and New Hampshire are notoriously late deciders," Diaz wrote about Bush's drop in the polls in those states. "In 2012, Rick Santorum won Iowa having just 2 percent in October.  In New Hampshire, exit polls showed 46 percent made their decision the week before the election.
Still, Bush looked to be on his way to meeting early expectations at the start of the fundraising period. The super-PAC he helped create had raised $103 million in the first six months of the year, and he was atop national polls of the Republican nomination race. By the end of the quarter, Bush had dropped to fifth nationally, according to Real Clear Politics polling average. 
For Bush supporters, the ace in the hole could be Right to Rise USA, the super-PAC he helped launch before becoming a candidate. That group can collect donations in unlimited amounts but can't coordinate with the campaign. The super-PAC, which doesn't have to report its collections again until January, has already raised enough that it should be able to air pro-Bush television advertisements well into March. By the time North Dakota holds its nomination contest on April 1, nearly two-thirds of the Republican delegates will have been awarded.
The super-PAC announced that it plans to spend $16.8 million in eight states holding nominating contests in March, including $6.1 million in Texas. The committee has already committed $33 million for advertising in Iowa, New Hampshire and South Carolina.
While Bush does have a deep-coffered super-PAC, his campaign's bottom line isn't as plush as those of several rivals. Cruz has $13.5 million cash on hand, while Carson has $12 million and Rubio $11 million.
Bush and his team have tried to focus attention in the primary contest on his ability to last a long race. 
"We're just starting to get to the phase of the campaign that matters," Bush said Wednesday night on Fox News. "We're starting to see advertising here in New Hampshire and Iowa, and my numbers are moving up. I'm campaigning hard, and over the long haul all this hard work will pay off."
The campaign also released Bush's 2014 tax return and a health report from Alberto Mitrani, an internist from south Florida who has cared for Bush since 2007.
Mitrani said Bush is in excellent health. While Bush had mildly elevated blood pressure and blood sugar levels, exercise and weight loss resolved both without the need for medication, Mitrani said in a statement. Bush takes the cholesterol-lowering drug atorvastatin, a generic version of Pfizer Inc.'s best-selling Lipitor, because of a family history of heart disease, and a daily dose of vitamin D3, the sunshine vitamin.
The Bush family reported earning $8.3 million in adjusted gross income last year with a total tax liability of $3.3 million, putting them in the top income tax bracket. They reported giving $308,734 in charitable gifts, or 3.7 percent of their adjusted gross income. By comparison the Obamas donated $70,712 to charity, almost 15 percent of their adjusted gross income, according to their 2014 return.
The Bush tax return also shows that the family reported income from outside the U.S. including Puerto Rico and made money from asset managers that run private equity funds including Fortress Investment Group. 
—With assistance from Michelle Cortez and Margaret Collins.